15th-ranked Tigers Drop Final Dual Decision to Maroons
January 31, 2009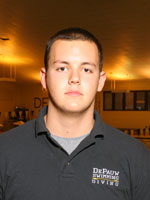 January 31, 2009, Greencastle, Ind. — DePauw, ranked 15th in Division III, wrapped up the dual meet portion of its schedule with a 151-137 loss to 23rd ranked University of Chicago at the Erdmann Natatorium. The Tigers finished the season with a 6-3 dual meet record.
The Tigers' 200-yard medley relay of Steve Klabak, Josh Baugh, Brogan Runion and John Cook opened the meet with a win in 1:37.61.
Cook was a double-winner for DePauw after finishing first in the 50 free in 21.47 seconds and the 100 free in 47.04.
Zack Moore (pictured) also won two events with wins in the 100 breaststroke in 59.41 seconds and the 200 breast in 2;10.43.
Patrick Springer won one-meter diving with 194.40 points and took first on the three-meter board with 150.45 points. John Montgomery claimed a first in the 200 freestyle in 1:45.03 and Runion won the 200 butterfly in 1:58.14.
The Maroons took a 136-135 lead into the 200 free relay and finished first and second after DePauw's "A" relay was disqualified.
DePauw competes in the Southern Collegiate Athletic Conference Championships, February 11-14, in Nashville, Tenn.
Licensed to Depauw University          HY-TEK's Meet Manager 1/31/2009 03:59 PM
                         DePauw vs Chicago - 1/31/2009                         
                                    Results                                    
 
Event 2  Men 200 Yard Medley Relay
===============================================================================
    School                                                        Finals Points 
===============================================================================
  1 DePauw University  'A'                                      1:37.61   11  
     1) Steve Klabak 10                 2) Josh Baugh 11                  
     3) Brogan Runion 12                4) John Cook 10                   
                  26.28       53.48 (27.20)     1:16.91 (23.43)     1:37.61 (20.70)
  2 University of Chicago  'A'                                  1:37.86    4  
     1) Tim Everett JR                  2) Nicolas Santoro FR             
     3) Alex Stabell SR                 4) Marius Aleksa FR               
                  26.54       53.55 (27.01)     1:16.62 (23.07)     1:37.86 (21.24)
  3 University of Chicago  'B'                                  1:40.01    2  
     1) Brian Young JR                  2) Ed Wagner SO                   
     3) Mark Surabian JR                4) James Schlabach SO             
                  25.89       52.85 (26.96)     1:17.85 (25.00)     1:40.01 (22.16)
  4 DePauw University  'B'                                      1:40.94  
     1) Luke Bretscher 12               2) Dan DeGeus 10                  
     3) Brendan Flores 12               4) Kyle Kerrigan 10               
                  27.57       54.02 (26.45)     1:19.06 (25.04)     1:40.94 (21.88)
  5 University of Chicago  'C'                                 x1:41.87  
     1) Robert Vanneste FR              2) Shane Carlson SR               
     3) Dan Nichols SO                  4) Ted Gonder FR                  
                  27.27       54.65 (27.38)     1:19.44 (24.79)     1:41.87 (22.43)
 
Event 4  Men 1000 Yard Freestyle
===============================================================================
    Name                    Year School                           Finals Points 
===============================================================================
  1 Jake Hanebutt             SO Chicago                       10:08.98    9  
                  27.01       56.83 (29.82)     1:26.67 (29.84)     1:56.72 (30.05)
        2:27.06 (30.34)     2:57.79 (30.73)     3:28.46 (30.67)     3:59.10 (30.64)
        4:29.85 (30.75)     5:00.50 (30.65)     5:31.27 (30.77)     6:02.00 (30.73)
        6:32.95 (30.95)     7:03.80 (30.85)     7:34.65 (30.85)     8:05.60 (30.95)
        8:36.58 (30.98)     9:07.50 (30.92)     9:38.76 (31.26)    10:08.98 (30.22)
  2 Phillip Bartels           SO Chicago                       10:10.04    4  
                  27.41       57.46 (30.05)     1:27.94 (30.48)     1:58.65 (30.71)
        2:29.46 (30.81)     3:00.46 (31.00)     3:31.30 (30.84)     4:02.21 (30.91)
        4:33.24 (31.03)     5:04.28 (31.04)     5:34.95 (30.67)     6:05.51 (30.56)
        6:36.25 (30.74)     7:07.01 (30.76)     7:37.78 (30.77)     8:08.35 (30.57)
        8:39.00 (30.65)     9:09.86 (30.86)     9:40.59 (30.73)    10:10.04 (29.45)
  3 Charlie Boehme            10 DPU                           10:18.59    3  
                  27.20       57.46 (30.26)     1:28.12 (30.66)     1:58.86 (30.74)
        2:29.73 (30.87)     3:00.50 (30.77)     3:31.46 (30.96)     4:02.59 (31.13)
        4:34.01 (31.42)     5:05.11 (31.10)     5:35.42 (30.31)     6:06.22 (30.80)
        6:37.48 (31.26)     7:08.17 (30.69)     7:39.32 (31.15)     8:10.48 (31.16)
        8:42.37 (31.89)     9:14.38 (32.01)     9:46.17 (31.79)    10:18.59 (32.42)
  4 Griffin Davis             12 DPU                           10:21.32    2  
                  27.10       57.79 (30.69)     1:29.53 (31.74)     2:00.85 (31.32)
        2:32.56 (31.71)     3:02.85 (30.29)     3:33.21 (30.36)     4:03.53 (30.32)
        4:34.36 (30.83)     5:05.37 (31.01)     5:36.66 (31.29)     6:08.70 (32.04)
        6:39.59 (30.89)     7:10.98 (31.39)     7:42.39 (31.41)     8:15.12 (32.73)
        8:46.55 (31.43)     9:18.39 (31.84)     9:50.12 (31.73)    10:21.32 (31.20)
  5 Dylan Klossner            12 DPU                           10:35.83    1  
                  27.23       57.94 (30.71)     1:29.10 (31.16)     2:00.77 (31.67)
        2:32.79 (32.02)     3:04.56 (31.77)     3:36.63 (32.07)     4:08.85 (32.22)
        4:41.32 (32.47)     5:14.04 (32.72)     5:46.62 (32.58)     6:19.18 (32.56)
        6:51.62 (32.44)     7:24.71 (33.09)     7:57.17 (32.46)     8:29.48 (32.31)
        9:02.05 (32.57)     9:33.91 (31.86)    10:05.10 (31.19)    10:35.83 (30.73)
  6 Tom Rich                  10 DPU                          x10:44.67  
                  27.61       58.00 (30.39)     1:29.55 (31.55)     2:01.42 (31.87)
        2:33.10 (31.68)     3:04.99 (31.89)     3:36.97 (31.98)     4:09.60 (32.63)
        4:42.44 (32.84)     5:15.61 (33.17)     5:48.70 (33.09)     6:21.78 (33.08)
        6:54.74 (32.96)     7:28.15 (33.41)     8:01.75 (33.60)     8:35.00 (33.25)
        9:08.38 (33.38)     9:41.57 (33.19)    10:14.34 (32.77)    10:44.67 (30.33)
  7 Nick Trojanowski          JR Chicago                       10:44.80  
                  28.24       58.86 (30.62)     1:30.50 (31.64)     2:02.94 (32.44)
        2:35.64 (32.70)     3:08.35 (32.71)     3:41.34 (32.99)     4:14.07 (32.73)
        4:47.35 (33.28)     5:20.49 (33.14)     5:52.88 (32.39)     6:25.80 (32.92)
        6:58.15 (32.35)     7:31.22 (33.07)     8:04.22 (33.00)     8:37.30 (33.08)
        9:10.35 (33.05)     9:42.68 (32.33)    10:14.71 (32.03)    10:44.80 (30.09)
  8 Matthew Miller            SO Chicago                      x10:55.59  
                  28.83     1:00.20 (31.37)     1:32.25 (32.05)     2:05.05 (32.80)
        2:37.51 (32.46)     3:09.94 (32.43)     3:42.93 (32.99)     4:16.16 (33.23)
        4:49.56 (33.40)     5:22.58 (33.02)     5:55.95 (33.37)     6:29.26 (33.31)
        7:02.87 (33.61)     7:36.77 (33.90)     8:10.98 (34.21)     8:44.52 (33.54)
        9:17.97 (33.45)     9:51.23 (33.26)    10:24.06 (32.83)    10:55.59 (31.53)
 
Event 6  Men 200 Yard Freestyle
===============================================================================
    Name                    Year School                           Finals Points 
===============================================================================
  1 John Montgomery           12 DPU                            1:45.03    9  
                  23.45       49.40 (25.95)     1:16.71 (27.31)     1:45.03 (28.32)
  2 Shane Carlson             SR Chicago                        1:45.34    4  
                  24.64       51.02 (26.38)     1:18.35 (27.33)     1:45.34 (26.99)
  3 James Schlabach           SO Chicago                        1:48.22    3  
                  24.61       51.43 (26.82)     1:19.23 (27.80)     1:48.22 (28.99)
  4 Paul Morimoto             FR Chicago                        1:49.10    2  
                  26.13       53.57 (27.44)     1:21.08 (27.51)     1:49.10 (28.02)
  5 Kyle Kerrigan             10 DPU                            1:51.60    1  
                  24.66       51.59 (26.93)     1:21.20 (29.61)     1:51.60 (30.40)
  6 Chase Bassignani          JR Chicago                       x1:53.01  
                  25.89       54.11 (28.22)     1:23.32 (29.21)     1:53.01 (29.69)
  7 Andrew Wandel             11 DPU                            1:53.13  
                  25.67       53.93 (28.26)     1:23.54 (29.61)     1:53.13 (29.59)
  8 Andrew Wagner             11 DPU                           x1:55.10  
                  26.42       55.09 (28.67)     1:24.89 (29.80)     1:55.10 (30.21)
 
Event 8  Men 100 Yard Backstroke
===============================================================================
    Name                    Year School                           Finals Points 
===============================================================================
  1 Brian Young               JR Chicago                          54.88    9  
                  26.91       54.88 (27.97)                                        
  2 Steve Klabak              10 DPU                              55.34    4  
                  26.90       55.34 (28.44)                                        
  3 Tim Everett               JR Chicago                          55.49    3  
                  26.98       55.49 (28.51)                                        
  4 Robert Vanneste           FR Chicago                          56.81    2  
                  27.75       56.81 (29.06)                                        
  5 Alex Troxel               10 DPU                              57.05    1  
                  27.72       57.05 (29.33)                                        
  6 Brendan Fischer           12 DPU                              58.23  
                  28.58       58.23 (29.65)                                        
  7 Luke Bretscher            12 DPU                             x58.44  
                  28.41       58.44 (30.03)                                        
  8 Dean Contreras            12 DPU                           x1:04.18  
                  30.97     1:04.18 (33.21)                                        
 
Event 10  Men 100 Yard Breaststroke
===============================================================================
    Name                    Year School                           Finals Points 
===============================================================================
  1 Zack Moore                12 DPU                              59.41    9  
                  28.08       59.41 (31.33)                                        
  2 Dan DeGeus                10 DPU                              59.62    4  
                  27.33       59.62 (32.29)                                        
  3 Ed Wagner                 SO Chicago                        1:00.32    3  
                  28.29     1:00.32 (32.03)                                        
  4 Josh Baugh                11 DPU                            1:01.21    2  
                  28.30     1:01.21 (32.91)                                        
  5 Nicolas Santoro           FR Chicago                        1:01.50    1  
                  28.78     1:01.50 (32.72)                                        
  6 Tom Smith                 12 DPU                           x1:06.24  
                  30.98     1:06.24 (35.26)                                        
  7 Matthew Miller            SO Chicago                        1:08.84  
                  32.38     1:08.84 (36.46)                                        
 
Event 12  Men 200 Yard Butterfly
===============================================================================
    Name                    Year School                           Finals Points 
===============================================================================
  1 Brogan Runion             12 DPU                            1:58.14    9  
                  25.82       54.84 (29.02)     1:25.71 (30.87)     1:58.14 (32.43)
  2 Dan Nichols               SO Chicago                        1:59.78    4  
                  26.57       57.26 (30.69)     1:28.48 (31.22)     1:59.78 (31.30)
  3 Erik Widestrom            FR Chicago                        2:02.78    3  
                  27.90       58.68 (30.78)     1:30.41 (31.73)     2:02.78 (32.37)
  4 Tom Lancaster             10 DPU                            2:04.70    2  
                  28.00       59.00 (31.00)     1:31.39 (32.39)     2:04.70 (33.31)
  5 Zach Lain                 FR Chicago                        2:06.42    1  
                  27.71       59.40 (31.69)     1:32.44 (33.04)     2:06.42 (33.98)
  6 Brendan Flores            12 DPU                            2:08.46  
                  27.36       59.51 (32.15)     1:32.46 (32.95)     2:08.46 (36.00)
  7 Chris Szynal              11 DPU                           x2:10.76  
                  28.80     1:00.68 (31.88)     1:33.93 (33.25)     2:10.76 (36.83)
 
Event 14  Men 50 Yard Freestyle
===============================================================================
    Name                    Year School                           Finals Points 
===============================================================================
  1 John Cook                 10 DPU                              21.47    9  
  2 Marius Aleksa             FR Chicago                          22.20    4  
  3 Alex Stabell              SR Chicago                          22.31    3  
  4 Kyle Kerrigan             10 DPU                              22.83    2  
  5 Ted Gonder                FR Chicago                          23.17    1  
  6 Mark Surabian             JR Chicago                         x23.21  
  7 John Montgomery           12 DPU                              23.29  
 
Event 16  Men 3 mtr Diving
===============================================================================
    Name                    Year School                           Finals Points 
===============================================================================
  1 Patrick Springer          11 DPU                             194.40    9  
  2 Evan Robinson             FR Chicago                         161.50    4  
 
Event 18  Men 100 Yard Freestyle
===============================================================================
    Name                    Year School                           Finals Points 
===============================================================================
  1 John Cook                 10 DPU                              47.04    9  
                  22.34       47.04 (24.70)                                        
  2 Steve Klabak              10 DPU                              47.99    4  
                  23.10       47.99 (24.89)                                        
  3 James Schlabach           SO Chicago                          48.64    3  
                  23.40       48.64 (25.24)                                        
  4 Marius Aleksa             FR Chicago                          48.99    2  
                  23.57       48.99 (25.42)                                        
  5 Josh Baugh                11 DPU                              49.28    1  
                  23.89       49.28 (25.39)                                        
  6 Nicolas Santoro           FR Chicago                          49.64  
                  23.39       49.64 (26.25)                                        
  7 Ted Gonder                FR Chicago                         x50.64  
                  24.34       50.64 (26.30)                                        
 
Event 20  Men 200 Yard Backstroke
===============================================================================
    Name                    Year School                           Finals Points 
===============================================================================
  1 Brian Young               JR Chicago                        1:59.27    9  
                  27.97       57.40 (29.43)     1:28.45 (31.05)     1:59.27 (30.82)
  2 Charlie Boehme            10 DPU                            1:59.98    4  
                  29.14       59.11 (29.97)     1:29.73 (30.62)     1:59.98 (30.25)
  3 Tim Everett               JR Chicago                        2:00.10    3  
                  28.54       59.13 (30.59)     1:29.61 (30.48)     2:00.10 (30.49)
  4 Alex Troxel               10 DPU                            2:00.34    2  
                  29.21       59.40 (30.19)     1:30.35 (30.95)     2:00.34 (29.99)
  5 Robert Vanneste           FR Chicago                        2:05.07    1  
                  28.93       59.76 (30.83)     1:32.11 (32.35)     2:05.07 (32.96)
  6 Luke Bretscher            12 DPU                            2:07.55  
                  29.65     1:01.67 (32.02)     1:34.64 (32.97)     2:07.55 (32.91)
 
Event 22  Men 200 Yard Breaststroke
===============================================================================
    Name                    Year School                           Finals Points 
===============================================================================
  1 Zack Moore                12 DPU                            2:10.43    9  
                  28.84     1:00.97 (32.13)     1:34.68 (33.71)     2:10.43 (35.75)
  2 Shane Carlson             SR Chicago                        2:11.46    4  
                  29.28     1:02.76 (33.48)     1:37.36 (34.60)     2:11.46 (34.10)
  3 Dan DeGeus                10 DPU                            2:14.62    3  
                  29.08     1:03.74 (34.66)     1:39.03 (35.29)     2:14.62 (35.59)
  4 Ed Wagner                 SO Chicago                        2:17.51    2  
                  31.05     1:05.89 (34.84)     1:41.78 (35.89)     2:17.51 (35.73)
  5 Erik Widestrom            FR Chicago                        2:19.56    1  
                  31.73     1:06.81 (35.08)     1:42.94 (36.13)     2:19.56 (36.62)
  6 Tom Smith                 12 DPU                            2:22.57  
                  31.99     1:07.93 (35.94)     1:44.57 (36.64)     2:22.57 (38.00)
 
Event 24  Men 500 Yard Freestyle
===============================================================================
    Name                    Year School                           Finals Points 
===============================================================================
  1 Paul Morimoto             FR Chicago                        4:53.22    9  
                  27.05       56.64 (29.59)     1:26.60 (29.96)     1:56.41 (29.81)
        2:25.61 (29.20)     2:54.93 (29.32)     3:23.91 (28.98)     3:53.26 (29.35)
        4:23.09 (29.83)     4:53.22 (30.13)                                        
  2 Griffin Davis             12 DPU                            4:56.54    4  
                  26.82       57.31 (30.49)     1:26.56 (29.25)     1:56.28 (29.72)
        2:26.01 (29.73)     2:55.96 (29.95)     3:26.11 (30.15)     3:57.08 (30.97)
        4:27.73 (30.65)     4:56.54 (28.81)                                        
  3 Jake Hanebutt             SO Chicago                        4:56.99    3  
                  27.00       56.14 (29.14)     1:25.88 (29.74)     1:56.03 (30.15)
        2:26.39 (30.36)     2:56.43 (30.04)     3:26.96 (30.53)     3:57.56 (30.60)
        4:28.31 (30.75)     4:56.99 (28.68)                                        
  4 Phillip Bartels           SO Chicago                        4:58.54    2  
                  27.02       56.77 (29.75)     1:27.20 (30.43)     1:57.83 (30.63)
        2:28.06 (30.23)     2:58.32 (30.26)     3:28.87 (30.55)     3:59.26 (30.39)
        4:29.77 (30.51)     4:58.54 (28.77)                                        
  5 John Montgomery           12 DPU                            5:02.01    1  
                  26.55       56.24 (29.69)     1:26.94 (30.70)     1:57.88 (30.94)
        2:28.65 (30.77)     2:59.51 (30.86)     3:30.47 (30.96)     4:01.09 (30.62)
        4:31.78 (30.69)     5:02.01 (30.23)                                        
  6 Chase Bassignani          JR Chicago                       x5:04.76  
                  27.54       58.03 (30.49)     1:29.08 (31.05)     2:00.07 (30.99)
        2:30.95 (30.88)     3:01.86 (30.91)     3:32.61 (30.75)     4:03.51 (30.90)
        4:34.58 (31.07)     5:04.76 (30.18)                                        
  7 Andrew Wandel             11 DPU                            5:06.63  
                  28.24       59.18 (30.94)     1:30.90 (31.72)     2:01.99 (31.09)
        2:32.43 (30.44)     3:03.33 (30.90)     3:34.32 (30.99)     4:05.79 (31.47)
        4:37.01 (31.22)     5:06.63 (29.62)                                        
  8 Jon Corwin                10 DPU                           x5:12.58  
                  26.93       56.76 (29.83)     1:27.65 (30.89)     1:58.98 (31.33)
        2:31.02 (32.04)     3:03.25 (32.23)     3:36.10 (32.85)     4:09.00 (32.90)
        4:41.46 (32.46)     5:12.58 (31.12)                                        
 
Event 26  Men 100 Yard Butterfly
===============================================================================
    Name                    Year School                           Finals Points 
===============================================================================
  1 Alex Stabell              SR Chicago                          52.14    9  
                  24.09       52.14 (28.05)                                        
  2 Brogan Runion             12 DPU                              52.89    4  
                  24.81       52.89 (28.08)                                        
  3 Dan Nichols               SO Chicago                          54.48    3  
                  25.65       54.48 (28.83)                                        
  4 Chris Szynal              11 DPU                              54.83    2  
                  25.09       54.83 (29.74)                                        
  5 Mark Surabian             JR Chicago                          56.01    1  
                  26.19       56.01 (29.82)                                        
  6 Brendan Flores            12 DPU                              56.24  
                  26.22       56.24 (30.02)                                        
  7 Tom Lancaster             10 DPU                             x56.37  
                  26.92       56.37 (29.45)                                        
  8 Zach Lain                 FR Chicago                         x56.42  
                  26.41       56.42 (30.01)                                        
  9 Dean Contreras            12 DPU                             x59.93  
                  28.66       59.93 (31.27)                                        
 
Event 28  Men 1 mtr Diving
===============================================================================
    Name                    Year School                           Finals Points 
===============================================================================
  1 Patrick Springer          11 DPU                             150.45    9  
  2 Evan Robinson             FR Chicago                         132.10    4  
 
Event 30  Men 200 Yard IM
===============================================================================
    Name                    Year School                           Finals Points 
===============================================================================
  1 Shane Carlson             SR Chicago                        1:59.11    9  
                  25.73       57.04 (31.31)     1:32.16 (35.12)     1:59.11 (26.95)
  2 Josh Baugh                11 DPU                            1:59.68    4  
                  25.17       56.83 (31.66)     1:31.87 (35.04)     1:59.68 (27.81)
  3 Dan Nichols               SO Chicago                        2:01.46    3  
                  25.96       57.41 (31.45)     1:33.17 (35.76)     2:01.46 (28.29)
  4 Paul Morimoto             FR Chicago                        2:01.78    2  
                  27.56     1:00.04 (32.48)     1:34.29 (34.25)     2:01.78 (27.49)
  5 Erik Widestrom            FR Chicago                       x2:02.73  
                  26.60       59.28 (32.68)     1:34.82 (35.54)     2:02.73 (27.91)
  6 Alex Troxel               10 DPU                            2:03.00    1  
                  26.48       57.66 (31.18)     1:33.50 (35.84)     2:03.00 (29.50)
  7 Zack Moore                12 DPU                            2:03.12  
                  27.47       58.54 (31.07)     1:32.75 (34.21)     2:03.12 (30.37)
  8 Dylan Klossner            12 DPU                           x2:06.70  
                  27.47       59.30 (31.83)     1:37.22 (37.92)     2:06.70 (29.48)
  9 Charlie Boehme            10 DPU                           x2:09.77  
                  27.16       59.49 (32.33)     1:38.89 (39.40)     2:09.77 (30.88)
 
Event 32  Men 200 Yard Freestyle Relay
===============================================================================
    School                                                        Finals Points 
===============================================================================
  1 University of Chicago  'A'                                  1:26.29   11  
     1) Marius Aleksa FR                2) Alex Stabell SR                
     3) James Schlabach SO              4) Nicolas Santoro FR             
                  21.95       43.23 (21.28)     1:05.08 (21.85)     1:26.29 (21.21)
  2 University of Chicago  'B'                                  1:31.28    4  
     1) Mark Surabian JR                2) Tim Everett JR                 
     3) Brian Young JR                  4) Ted Gonder FR                  
                  23.10       46.08 (22.98)     1:09.02 (22.94)     1:31.28 (22.26)
  3 DePauw University  'B'                                      1:31.43    2  
     1) Griffin Davis 12                2) Brendan Flores 12              
     3) Chris Szynal 11                 4) Andrew Wagner 11               
                  23.43       45.67 (22.24)     1:08.11 (22.44)     1:31.43 (23.32)
  4 DePauw University  'C'                                      1:34.62  
     1) Tom Rich 10                     2) Jon Corwin 10                  
     3) Andrew Wandel 11                4) Tom Lancaster 10               
                  23.87       46.89 (23.02)     1:09.91 (23.02)     1:34.62 (24.71)
  5 University of Chicago  'C'                                 x1:35.11  
     1) Chase Bassignani JR             2) Phillip Bartels SO             
     3) Zach Lain FR                    4) Nick Trojanowski JR            
                  23.77       48.01 (24.24)     1:11.76 (23.75)     1:35.11 (23.35)
 -- DePauw University  'A'                                           DQ  
     1) John Cook 10                    2) John Montgomery 12             
     3) Kyle Kerrigan 10                4) Steve Klabak 10                
                  21.40       42.76 (21.36)     1:04.10 (21.34)          DQ (21.03)
 
                    Men - Team Rankings - Through Event 32                     
 
  1. University of Chicago               151   2. DePauw University                   137


Back