Brad Stevens '99 Nears Coaching Milestone
February 2, 2009
February 2, 2009, Greencastle, Ind. — "John Wooden and Adolph Rupp didn't do it. Neither did Bob Knight nor Dean Smith," writes David Woods in today's Indianapolis Star. "None of those college basketball icons scored 50 victories as early as his 55th game of coaching. That's what Brad Stevens would do tonight if Butler beats Wisconsin-Green Bay in what must be considered the Horizon League's game of the year."
Stevens, head men's basketball coach at Butler University, is a 1999 graduate of DePauw University. The Bulldogs are 19-1, the best start to a season in the school's history.
"Last year Stevens, at 31, became the youngest in a half-century to lead a team to 30 victories. This year, with a cumulative 49-5 record, he could equal the quickest to 50 in nearly a century," notes Woods. "The NCAA doesn't keep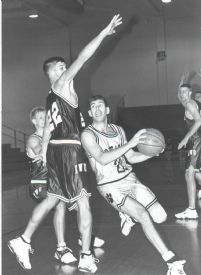 records in this category, but its database reveals Wisconsin coach Doc Meanwell started 50-1 from 1911-15. Otherwise, the fastest to 50 is Bill Carmody, who was 50-5 at Princeton from 1996-98." (at right: Stevens in action as a DePauw Tiger)
The piece also points out, "A recent story in the Sporting News listed Stevens among six national Coach of the Year candidates."
You'll find the complete column at IndyStar.com.
Last month, Brad Stevens received the Hugh Durham Award, presented to the nation's top mid-major coach by CollegeInsider.com.
Learn more about him in this recent story.
Back