Two Days After Visiting DePauw, David Plouffe Signs 7-Figure Book Deal
February 4, 2009
Also: David Plouffe's Ubben Lecture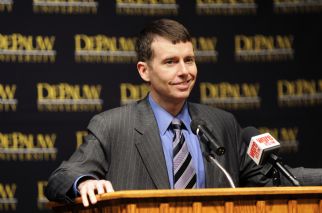 February 4, 2009, Greencastle, Ind. — "Obama campaign manager David Plouffe has agreed to a seven-figure deal to write a book about last year's presidential election," reports the Associated Press today, two days after Plouffe visited DePauw University to present a Timothy and Sharon Ubben Lecture. "The Audacity to Win: The Inside Story and Lessons of Barack Obama's Historic Victory will be published by Viking next fall."
The report continues, "According to a statement issued Wednesday by Viking, the book will offer a unique, high-level account, including 'the deliberations about whether to run against long odds, the epic primary battle with Hillary Clinton, the drama of the general election campaign against John McCain and the strategic roads taken -- and not taken ... The book will also detail the business lessons to be learned from the formation and the functioning of an unprecedented $1 billion start-up -- use of technology, crisis management, grass roots, and personnel management.'"
Plouffe discussed those issues in his DePauw speech -- "Leadership Lessons from a Presidential Campaign Manager" -- Monday night.

[Download Video: "The Untold Story" - 1215kb] "What has never really been properly appreciated by the press, this grassroots campaign wasn't about how many calls we made or how many doors we knocked on, it was the quality of those
contacts," he told an audience in Kresge Auditorium of the Green Center for Performing Arts. "See, if I talk to my circle of people I know every 2 years, they kind of tune me out about politics 'cause I'm gonna say 'Vote for this Democrat, you know, this is a great guy.' But if it's someone in your circle whose never raised their voice about politics before, who might not even have been registered before, who's an independent or Republican who's passionate about a Democrat for the first time -- that has an enormous impact."
The AP's Hillel Italie writes, "Interest was strong for Plouffe's book. The Obama campaign not only raised the most money ever for a presidential election -- some $750 million -- but is widely credited for being among the most sophisticated and well organized. Plouffe's literary representative, Washington attorney Robert Barnett, told the Associated Press that 17 imprints (some within the same publishing house) competed for the book."
Read more by clicking here.
A summary of David Plouffe's Ubben Lecture at DePauw -- including video and audio clips and photos -- can be accessed here.
Back