Christian, Jewish and Muslim Spain - Winter Term 2009
February 4, 2009
The Winter Term focused on the period beginning with the Berber invasion of Iberia in 711 to the 1609 expulsion of the Moriscos, Muslims of Spain and Portugal who converted to Catholicism during the reconquest of Spain.


Led by Linda L. Elman, associate professor of modern languages (Spanish) and David N. Gellman, associate professor of history, 13 DePauw students toured Spain in two weeks with stops in Madrid, Segovia, Cordoba, Granada and Toledo. The history that they learned about Spain in the few days before they landed in Madrid all came to life very quickly as their tour began.

One requirement of the course was to choose a topic to research on campus and then give a presentation about it during the trip. Biochemistry major Daniel A. Bonnin '11 researched Spanish mosques. He gave his presentation across from the Great Mosque of Cordoba (below). "Words can't describe it. When you actually see it, it's monumental." Bonnin's overall reaction to Spain, "Captivating!"

In the Jewish Quarter in Cordoba, philosophy major Elizabeth "Nicki" N. Hewell '11 stood next to the statue of Maimonides and gave her presentation a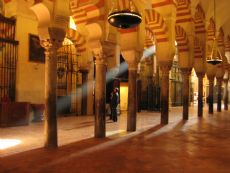 bout the Jewish philosopher. Hewell was especially excited about her topic because she studied Maimonides in a DePauw class, Medieval Philosophy with philosophy professor Daniel E. Shannon.


Last semester three of the students on the trip took Elman's first year seminar class: Christian, Jewish and Muslim Spain. They read A Vanished World: Medieval Spain's Golden Age of Enlightenment by Chris Lowney. The book describes the historical relationship between Christians, Jews and Muslims who lived in relative tolerance in Spain. They adopted each other's language and customs, created a golden age for each faith, and pioneered innovations that revolutionized the West.

Centuries after Spain expelled the Jews during the Spanish Inquisition, the country remembers and honors its Sephardic heritage through a government-sponsored initiative. The Caminos de Sefarad, or Sephardic Routes, link 15 medieval Jewish cities across Spain including four of the five cities on the Winter Term itinerary.

Samuel Thomas Holley-Kline '12 was amazed by the vast evidence of Christian, Jewish, and Muslim influences. "The tangibility of history and culture in Spain was unbelievable. In Cordoba, for example, we walked past a Moorish water wheel and turned at a Roman bridge to get to our hotel adjacent to the old Jewish Quarter. This was across from La Mezquita, a mosque-turned-cathedral whose Visigothic foundations date to 600 AD."

"In Segovia, we passed the still-functioning Roman aqueduct to get to the Gothic cathedral or to the Castle-turned-Artillery School. We visited the Alhambra, a fortress in Granada whose first mention in contemporary documents dates to nearly a millennium before our Civil War." Holley-Kline concludes, "It was my second trip to Spain, and it won't be my last. After this trip, I am conside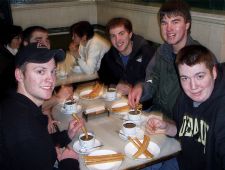 ring a Spanish major."

Students are seen in photo (at right) eating churros con chocolate at the famous Chocolateria San Gines in Madrid. It's open from 6p.m.-7a.m., seven days a week.

As the tour bus approached Consuegra in La Mancha the students could see the windmills made famous by Miguel de Cervantes novel written in 1605, Don Quixote, Elman read from Book one, chapter 8. The chapter begins:

At this point they came in sight of thirty or forty windmills that there are on plain, and as soon as Don Quixote saw them he said to his squire, "Fortune is arranging matters for us better than we could have shaped our desires ourselves, for look there, friend Sancho Panza, where thirty or more monstrous giants present themselves, all of whom I mean to engage in battle and slay, and with whose spoils we shall begin to make our fortunes; for this is righteous warfare, and it is God's good service to sweep so evil a breed from off the face of the earth."


"What giants?" said Sancho Panza.

"Those thou seest there," answered his master, "with the long arms, and some have them nearly two leagues long."
"Look, your worship," said Sancho; "what we see there are not giants but windmills, and what seem to be their arms are the sails that turned by the wind make the millstone go."

"It is easy to see," replied Don Quixote, "that thou art not used to this business of adventures; those are giants; and if thou art afraid, away with thee out of this and betake thyself to prayer while I engage them in fierce and unequal combat."
Elman is associate professor of modern languages (Spanish). Her areas of expertise include 17th-century Spanish Drama and 20th-century Latin American prose fiction. Elman serves as the foreign language methods teacher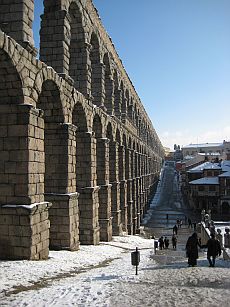 and liaison to the Education Department. She recently translated a children's book into Spanish. Click here to read a recent article about Elman's translation in The DePauw.

Gellman is associate professor of history. He teaches colonial and 19th-century U.S. history and has a particular interest in slavery, abolition, race and politics. His book,Emancipating New York: The Politics of Slavery and Freedom 1777-1827, was published recently by LSU Press.

The trip was arranged by Edward "Tave" A. Reser '83, executive director of
Seminars International, Inc.
Back