New FOX Anchor Bret Baier '92 Profiled in Washington Post
January 6, 2009
January 6, 2009, Greencastle, Ind. — "Bret Baier, who took over FOX's Washington newscast last night, dutifully declares that he will gradually put his own 'stamp' on the program," begins a story in today's Washington Post. "Yet in praising the decade-old show that Brit Hume built from scratch -- with its heavy focus on politics and punditry -- Baier doesn't sound like a man with an agenda. 'Why change the thing that has worked so well?' he asks."
Howard Kurtz writes, "The 38-year-old reporter alters one very important thing with his presence in the Special Report anchor chair. Hume was a proud conservative who saw himself as providing a balanced counterweight to the media's liberal slant. Baier says he is an independent who does not bring an ideological approach to his work."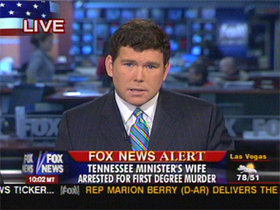 Hume tells the Post, "He's a very serious guy, and a good reporter. I picked that up almost from the first time I saw him. Bret was a guy who did very good [taped] packages. He wrote them well. And he completely got what we were talking about with fair-and-balanced news."
White House press secretary Dana Perino adds, "I've always said about Bret: How does he pack so much information into a package? He's a reporter who's worked his way up the old-fashioned way. He isn't snarky or rude. . . . He also pursues stories that others won't necessarily have
time to do, and he knows many different subjects, from the economy to Middle East peace to Guantanamo Bay."
Access the complete piece at the Post's Web site.
Bret Baier is a 1992 graduate of DePauw University, where he majored in political science and English. He began his career as a production assistant at CNN and joined FOX News Channel in 1998.
In September 2008, Baier returned to his alma mater to participate in "DePauw Discourse 2008: America's Role in the World." The newsman moderated a session with Lee Hamilton '52, the former congressman and co-chair of the Iraq Study Group and 9/11 Commission. An article -- including video and audio clips -- can be accessed here.
Learn more in this recent story.
Back