FOX News' Bret Baier '92 and His Family Featured in People
February 5, 2009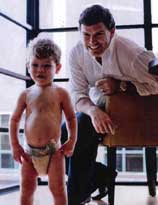 February 5, 2009, Greencastle, Ind. — "The fact that a surgeon can operate on a walnut-sized heart boggles my mind," says Bret Baier, anchor of Special Report on FOX News Channel and 1992 graduate of DePauw University. The story of Baier's now-19-month-old son, Paul, is told in People magazine. Paul Baier was born with five major problems with his heart and had to endure two open heart surgeries and two angioplasties. (image at left: courtesy People)
"President Bush called the family on the day of Paul's first surgery; Bush's press secretary at the time, the late Tony Snow, e-mailed every day," reports Liza Hamm, noting that Bret Baier and his wife, Amy, were overwhelmed by the support they received.
Paul "always has a smile, is extremely active and all boy," his proud dad tells People, adding, "He's reminded us how fragile life really is."
The article, headlined "He's a Miracle," points out, "Last August the Baiers, and Amy's parents, donated $1 million to the Children's National Medical Center to give back to the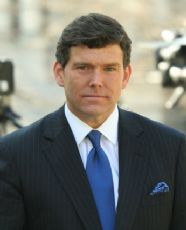 hospital that saved their son and raise awareness."
The magazine is available on newsstands now.
Bret Baier took over the anchor chair at Special Report last month from Britt Hume and was recently the subject of a profile in the Washington Post.
Baier majored in political science and English at DePauw. He began his career as a production assistant at CNN and joined FOX News Channel in 1998. In September 2008, Baier returned to his alma mater to participate in "DePauw Discourse 2008: America's Role in the World." The newsman moderated a session with Lee Hamilton '52, the former congressman and co-chair of the Iraq Study Group and 9/11 Commission. An article -- including video and audio clips -- can be accessed here.
Back