Success Rates of Students at DePauw and Other Independent Colleges Much Greater than State Schools
February 10, 2009
February 10, 2009, Greencastle, Ind. — DePauw University and other independent colleges in Indiana have a higher success rate when it comes to graduating students within 4 years than do state institutions, according to data from Independent Colleges of Indiana. The chart below, provided by ICI, shows that approximately 60% of incoming freshman enrolled at Indiana's independent colleges graduate within four years, compared with about 29% of undergraduates at state schools.
At DePauw, 81.2% of students graduate within four years.
National surveys track the 6-year graduation
rates of four-year institutions. The most recent
6-year graduation rate, from 2004, was 57%.
"Not only does Indiana need more students entering college but also needs them completing their degrees," notes ICI, a nonprofit corporation representing, supporting, and advancing Indiana's 31 independent, non-profit, regionally-accredited colleges and universities. "Although always working to improve degree completion rates, ICI campuses lead their state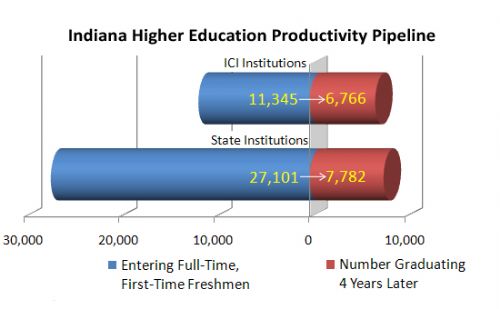 counterparts in this area, with a significantly larger proportion of students who enter as freshmen persisting in school and graduating within four years."
"This is compelling evidence that what independent colleges such as DePauw provide -- including small class sizes, faculty members who know their students personally and are committed to their success, and campuses where undergraduates have many opportunities to lead and engage -- is indeed unique and can lead to richer experiences for students," says DePauw President Brian W. Casey.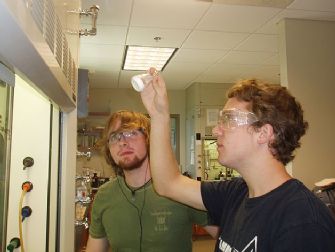 Consistently recognized as one of the nation's top liberal arts colleges, DePauw University has graduated some of America's most prominent business, political and community leaders. Its student body of approximately 2,300 undergraduates comes from 42 states and 32 countries. A faculty of 238 ensures small class sizes which average 16 students (many are smaller), providing optimal opportunities for discussion, participation and one-on-one interactions.
DePauw is among the nation's top 50 liberal arts colleges that combine "outstanding economic value with top-notch education," according to Kiplinger's Personal Finance. The magazine's 2009 "best values" list, released last month, places DePauw #38 among the nation's liberal arts colleges.
The 2008 National Survey of Student Engagement puts DePauw freshmen and seniors in the top 10% of all colleges and universities for the level of academic challenge they experience. The study also ranks

DePauw seniors in the top 10% of all participating institutions nationwide for enjoying enriching educational experiences.
DePauw University ranks among the top 10 baccalaureate institutions in the nation for the total number of students who studied abroad in 2006-07, according to the 2008 Open Doors report. It is also among the "Top Producers of Fulbright Awards for U.S. Students, 2008-09" according to a chart published in the October 24, 2008 edition of the Chronicle of Higher Education.
Prospective students are invited to visit DePauw's Office of Admission online.
Back