Tigers Win for Eleventh Time in Last 12 Games
February 8, 2009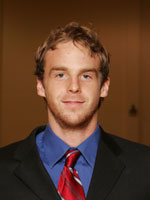 February 8, 2009, Memphis, Tenn. — The 25th-ranked Tigers scored the final 10 points of the first half and pulled away from host Rhodes College for an 82-63 Southern Collegiate Athletic Conference victory.
DePauw improved to 17-5 overall and 9-2 in the SCAC, while the Lynx dropped to 7-14 overall and 1-11 in conference play. The Tigers have won 11 of their last 12 and are tied for the SCAC Eastern Division lead with Centre.
DePauw held Rhodes to just two points over the final nine minutes of the first half as it wrapped up the opening 20 minutes with a 15-2 run and a 39-25 halftime lead. The lead was still 15 at 48-33 before the Tigers put together an 8-0 stretch which extended the margin to 23.
Mike Moore, whose streak of 87 consecutive starts came to an end due to a pre-game injury, led the Tigers with 23 points. Tony James added 12 points with six assists and three steals and Tom Callen (pictured) posted a double-double of 11 points and a career-high 12 rebounds.
Cory Smith paced Rhodes with 19 points and Nathan Ollie added 12. Smith, Rob Bledsoe and Reid Hamilton each hauled down five rebounds.
The Tigers shot 56.6 percent for the game and held a 34-25 rebounding edge with just nine turnovers, while Rhodes connected on 41.4 percent from the field.
With his 12th game of 20 or more points this season, Moore moved into sixth place on DePauw's all-time scoring list with 1,419 points.
DePauw returns to action on Saturday, February 14, when it travels to Centre for a 1 p.m. contest.
Back