18th-ranked Tigers Push Win Streak to 16 with Win over Lynx
February 8, 2009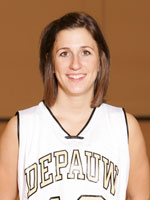 February 8, 2009, Memphis, Tenn. — The 18th-ranked Tigers outscored Rhodes 17-4 over the last six minutes of the first half after trailing by three and extended their win streak to 16 with an 86-75 Southern Collegiate Athletic Conference win at Rhodes College.
DePauw improved to 19-3 overall and 10-1 in the conference, while the Lynx dropped to 12-10 overall and 5-7 in SCAC play. The Tigers moved back into a tie for first with Oglethorpe in the SCAC East Division.
Rhodes led 36-35 with just over five minutes left in the first half before Katie Mathews and Cassie Pruzin (pictured) knocked down consecutive threes. Brooke Osborne nailed a three and Brianna Frigerio and Emily Marshall followed with buckets to give the Tigers a 48-38 halftime lead.
The Tigers held a 12-point lead in the second half before scoring eight straight to push the margin to 20 at 70-50. Rhodes pulled to within nine in the final minute with an 8-2 run, but Osborne hit a pair of free throws with 27 seconds left to wrap up the win.
Pruzin led the Tigers with a season-high 23 points, while Marshall matched a career high with 16 points and grabbed 12 rebounds. Osborne followed with 12 points and Mathews dished out five assists.
Becky Atnip paced Rhodes with 26 points, while Kristen Lytle added 21 and Jenilee Pate scored 11. Pate hauled down six boards, while Atnip and LeKeya McGill shared the team lead with six assists each.
DePauw shot 46.3 percent from the floor to Rhodes' 43.3 percent and the Tigers held a 44-23 rebounding edge.
The Tigers return to action on Satruday, February 14, when they travel to Centre for a 3 p.m. contest.
Back