Senior Debater Wins Lincoln-Douglas Competition
February 9, 2009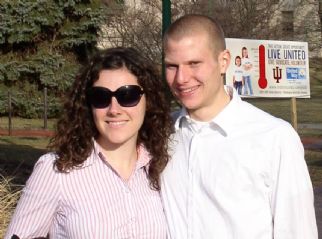 February 9, 2009, Greencastle, Ind. — Michael Lutz, a DePauw University senior, won the Intervarsity Lincoln-Douglas Debate Competition, which took place over the weekend at Indiana University. The event brought together the top teams in debate from Illinois and Indiana to commemorate the 200th anniversary of President Abraham Lincoln's birth. (at left: DePauw debaters Keelin Kelly and Michael Lutz)
Lutz compiled a preliminary 5-1 record to advance to the semifinals and then to the final round, where he faced a tough competitor from the University of Illinois. Lutz prevailed on a 4-1 decision because of -- according to the judges -- the strength of his arguments and his persuasive performance. The judges included IU professors and members of the Bloomington City Council and Monroe County Council.
The resolution for the tournament was "The United States Should Significantly Curtail the Powers of the President." Lutz spoke on the negative side in the final round.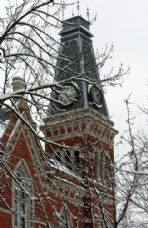 Junior Keelin Kelly -- the other DePauw debater invited to the tournament, and Lutz's regular season partner -- also had a strong finish. She compiled a 4-2 record in preliminary rounds to advance to the semifinals, dropping in that round to the debater from Illinois that Lutz went on to defeat in the finals.
"Both Michael and Keelin worked hard to prepare for this unique showcase debate," according to Geoff Klinger '88, director of forensics and associate professor of communication and theatre at DePauw. " They have always been excellent debaters, but their performance at this particular tournament was especially significant given its public nature, and sponsorship."
Learn more about the event by clicking here.
For information on the DePauw Debate Team, contact Professor Klinger at klinger@depauw.edu.
Back