18th-ranked Tigers in Third at SCAC Championships with One Day Remaining
February 13, 2009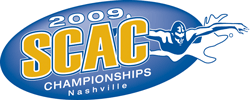 February 13, 2009, Nashville, Tenn. — With one day of competition remaining at the Southern Collegiate Athletic Conference Championships, the 18th-ranked Tigers are third with 534 points. Trinity leads with 672 and Centre is second with 560.
Complete results along with links to award stand photos and student-athlete interviews are available through the official site.
The Tigers' 200-yard medley relay of Danielle Johnson, Catie Baker, Amanda Stier and Katie Massey finished second in an NCAA provisional time of 1:47.96.
Callie Boehme won the 400 individual medley in an NCAA provisional time of 4:34.21 and Stier was second in the 100 butterfly in a provisional time of 57.34. Baker finished fourth in the 100 breaststroke but did so in a provisional and school-record time of 1:06.05.
DePauw's 800 free relay of Cassie Enix, Katie Morrison, Elizabeth Medlock and Boehme placed third in 8:03.04.
Action at the Championships wraps up on Saturday. The Tigers have finished second each of the last four years.
Back