15th-ranked Tigers Grab First Place with One Day Left at SCAC Championships
February 13, 2009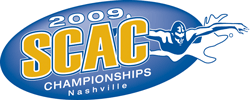 February 13, 2009, Nashville, Tenn. — Headed into the final day of competition, 15th-ranked DePauw has taken the lead at the Southern Collegiate Athletic Conference Championships. The Tigers have totaled 618 points, while Trinity is second with 542 and Centre is third with 486.
Complete results along with links to award stand photos and student-athlete interviews are available through the official site.
DePauw's 200-yard medley relay of Steve Klabak, Josh Baugh, Brogan Runion and John Montgomery finished second in 1:34.58 before Charlie Boehme (pictured left) set a school record and notched an NCAA provisional cut with his second straight 400 individual medley conference title in 4:05.31. Alex Troxel finished third in the event in 4:13.64 and also earned all-SCAC honors.
Runion placed second in the 100 butterfly in a provisional time of 50.55 seconds, while John Cook (pictured below right) claimed his second individual first of the Championships after winning the 200 freestyle in an automatic qualifying time of 1:39.45. That time also broke the DePauw and SCAC records.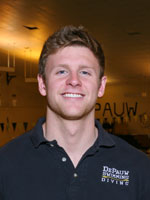 The Tigers then claimed the top two spots in the 100 breaststroke as Dan DeGeus won in an NCAA provisional and school record time of 57.73 seconds. Baugh was second in 57.75 which was an improvement upon his school-record time in the prelims.
DePauw's 800 free relay of Baugh, Montgomery, Boehme and Cook wrapped up the evening with a win in a provisional, school and SCAC record time of 6:48.21.
The meet wraps up on Saturday as the Tigers go after their fifth straight conference title and seventh in their 11 years in the SCAC.
Back