Centre Snaps Tigers' 16-game Win Streak
February 14, 2009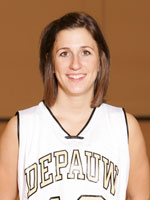 February 14, 2009, Danville, Ky. — Host Centre outscored 14th-ranked DePauw, 10-1, over the opening seven minutes of the second half and eventually pulled away to lead by as many as 23 on the way to a 74-62 Southern Collegiate Athletic Conference win over the Tigers.
DePauw dropped to 19-4 overall and 10-2 in the conference as its 16-game win streak came to an end. Centre improved to 16-7 overall and 9-3 in the conference.
The Colonels led by as many as eight at 24-16 near the midpoint of the first half, but DePauw came right back with a 17-3 run capped by Cassie Pruzin's three to make it 33-27 with 5:57 remaining in the half. Centre responded with a 7-0 stretch to regain the lead, but the teams went to the break tied 38-38.
Centre scored the first five of the second half to take the lead for good. DePauw was within five at 50-45 after Brooke Osborne hit a pair of free throws with 11:27 remaining, but the Colonels outscored the Tigers 23-5 over the next eight minutes to take their biggest lead at 73-50 with just over three minutes left. The Tigers did close the margin with a 12-2 run at the end.
Pruzin notched a season high with 23 points, while Osborne added 10. Emily Marshall hauled down 11 rebounds and Katie Mathews dished out four assists.
Chelsea Goodman paced Centre with 23 points and seven rebounds, while Maggie Prewitt scored 18 and dished out seven assists.
The Tigers shot just 34.9 percent for the game including only 22.6 percent in the second half, while the Colonels hit 43.6 percent from the field including 48 percent from beyond the arc on 12-of-25 shooting.
Centre also held a 34-31 rebounding advantage and were just the second team to outrebound the Tigers this season and first since the second game of the year. DePauw entered the game leading Division III in rebound margin.
DePauw returns to action on Friday, February 20, when it hosts fifth-ranked Oglethorpe at 8 p.m. The game is part of the WBCA's Pink Zone initiative to fight breast cancer.
Back