Effective Oversight Requires a Strong Press, Opines Lee Hamilton '52
February 15, 2009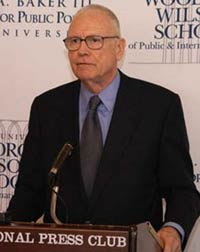 February 15, 2009, Greencastle, Ind. — "These are extraordinary political and economic times, and even from a distance you can sense the animation on Capitol Hill as Congress debates President Obama's stimulus package, weighs his executive-branch appointments and responds to his various initiatives," writes Lee H. Hamilton, veteran statesman and 1952 graduate of DePauw University. "You can feel the same intensity in the Washington press corps, as it works to keep a rapt public briefed on the ins and outs of the capital's daily workings. Yet, as capable a job as it's doing right now, we should all be worried about what happens with the press in upcoming months," Hamilton asserts in an op-ed column.
The Democrat who served 34 years in the U.S. House of Representatives believes that "reporters in Washington bear great responsibility in our democracy at the moment. Both Congress and the White Houseare in the hands of the same political party, which is almost certain to magnify an already troubling long-term trend: congressional deference to White House authority,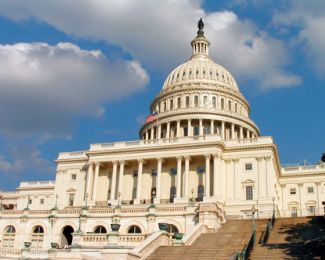 especially on budgetary and foreign-policy issues. We saw the pernicious effect of this during the first six years of the previous administration, when a Republican Congress failed in its oversight role of a Republican president."
In Hamilton's view, "A Congress that defers to the president is, unfortunately, a Congress that is prone to be passive in the oversight of his administration, which can lead to ineffective government performance, unresponsive bureaucracy, and wasteful spending." He declares, "This means that the watchdogs of the press will be needed more than ever to delve into the federal government's nooks and crannies, analyze its performance, make sure that programs are implemented as intended, explore the shadows where officials often feel most comfortable operating, and make sure that both the American people and members of Congress understand what the government is doing in their name."
The man who co-chaired the 9/11 Commission and Iraq Study Group notes that news gathering organizations are cutting budgets and, in turn, reporters. "Inevitably, this means that the breadth of news we can get about our governments, both federal and state, is shrinking, too," Hamilton writes. "This is the kind of coverage that requires patient digging, months of work, detailed knowledge
of the arcana of federal policy, sophisticated databases, cultivation of sources and diligent followup of whistleblowers. I have no doubt that a handful of media outlets will continue to devote time and resources to investigating big stories, but in an era when the very existence of newspapers is coming into question and a successful business model for sustaining potent news organizations hasn't yet emerged, will even they bother to assign reporters to sniff out problems in the administration of far-flung federal programs?" (at left: Hamilton talking with DePauw students in historic East College)
Hamilton concludes, "The plain truth is, representative democracy depends on robust oversight of the activities of federal officials. It ought to be part of the daily business of Congress, and the daily concern of the media. When one is politically disinclined to press as hard as it ought, and the other is financially hampered in its ability to do so, every American ought to be concerned."
Access the complete essay at the Reporter-Times of Martinsville, Indiana.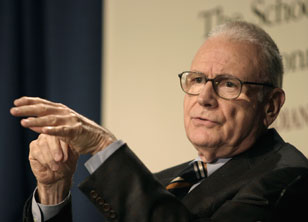 Lee H. Hamilton is director of the Woodrow Wilson International Center for Scholars in Washington, D.C. Newsweek has called him "Mr. Integrity," while the New York Times' David Brooks opined of Hamilton, "The country is hungering for leaders like him: open-minded, unassuming centrists who are interested in government more than politics."
Learn more in this recent story.
Back