DePauw Percussion Ensemble Presents 'Gods and Monsters' Tuesday
February 14, 2009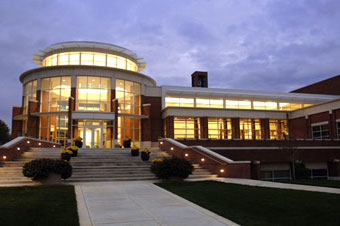 February 14, 2009, Greencastle, Ind. — The DePauw Percussion Ensemble will present "Gods and Monsters" -- a multimedia concert with dance, lighting and graphics -- on Tuesday, February 17, at 7:30 p.m. The program will take place in Kresge Auditorium of the Judson and Joyce Green Center for the Performing Arts. Open to the public, it is presented free of admission charge.
The concert will feature Christopher Rouse's Ku-Ka-Ilimoku -- a work about the Hawaiian god of war -- and Ogoun Badagris - a work about a Haitian Voodoo deity, and will conclude with Gardner Read's Los Dioses Aztecas, a seven movement work, with each movement focused on a different Aztec god or goddess.
"The two pieces by Christopher Rouse, one of our major American composers, have earned the rank of 'classics' of the percussion ensemble repertoire; they are pieces that every percussionist should know," explains Amy Lynn Barber (pictured at right), the ensemble's director. "Because they both depict pagan gods, I thought of pairing them with Gardner Read' s The Aztec Gods. I knew Read at Boston University. He was teaching composition there when I was a student, and we often played his music."
Barber adds, "I haven't done The Aztec Gods in many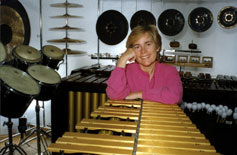 years, and have wonderful memories of a graduate school performance which was fully choreographed by the dance department. It was so powerful, so I was hoping we could bring it to life with some graphics and dance. I'm so happy that we were able to find people to collaborate on this with us."
"It has been a great and challenging experience," notes Steven Linville '06, one of the dancers for the Tuesday concert. "The Aztec Gods is such an expressive piece, and very different than musical works that any of the dancers have created movement for in the past. It was been a true challenge and extremely creative experience for us to be able to collaborate with the Percussion Ensemble on such a grand scale."
For more information about events, visit the DePauw University School of Music online.
Back