Brad Stevens '99 is "No-Brainer Pick" for College Basketball Coach of the Year
February 16, 2009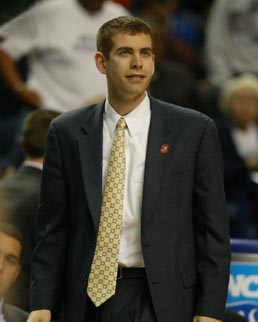 February 16, 2009, Greencastle, Ind. — "The no-brainer pick for college basketball Coach of the Year looks like your paper boy, acts like a buttoned-down corporate executive and is more low-key than a PBS special on bird migrations," writes the Indianapolis Star's Bob Kravitz of Brad Stevens, head men's basketball coach at Butler University and 1999 graduate of DePauw. "Stevens has turned the Coach of the Year balloting into a landslide. It's Stevens and . . . who?," the columnist asserts.
Butler has a history of producing coaches who leave for bigger programs, Kravitz notes, and the 32-year-old Stevens is in demand with a 22-3 record this season, and a 30-4 mark last year in his initial campaign leading the Bulldog program.
"Nobody," opines Kravitz, "has done more with less than Stevens. Nobody has taken a team dominated by freshmen, specifically Gordon Hayward, Shelvin Mack and Ronald Nored, and steered them into the top 20, much less the top 15."
"Surprised? Yes,'' says Butler athletic director Barry Collier. "I was hopeful we would have a good team, we would build through the year and maybe be in the hunt for a championship run in the (league) tournament. But

nothing like this." Collier says that Stevens "has a special wisdom about him.''
Kravitz concludes, "Ultimately, the challenge for Butler will be to see how long it can retain its rising star."
Read the complete text at IndyStar.com.
Learn more about Brad Stevens, who was an economics major and Management Fellow at DePauw, in this recent story.
Back