Prof. John Baughman '48 to Address Symposium on Indiana's Faith-Based Colleges
February 18, 2009
February 18 2009, Greencastle, Ind. — John J. Baughman, professor emeritus of history at DePauw University, will be among the presenters at a symposium at which seven Indiana universities will discuss their common faith-based origins. The event, "Called to Unite Knowledge & Vital Piety: Exploring Indiana's Places of Christian Higher Education in the Wesleyan & Holiness Traditions," will take place March 27 & 28 at the University of Indianapolis and feature presentations by representatives from DePauw and six other Indiana colleges.
"All seven participating institutions were founded in the 19th or early 20th centuries by people or groups associated with the Wesleyan and Holiness traditions, which swept the nation at the time and are closely associated with the development of American Methodism," notes an announcement from UIndy. "The symposium is designed for faculty and staff of the seven universities but also is open to members of United Methodist churches and others interested in the intersection of faith and higher education."
Dr. Baughman, a 1948 graduate of DePauw, will discuss "Change and Challenges: Nearly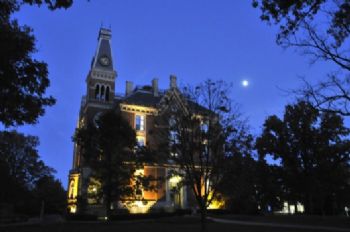 Two Centuries of Relations Between American Methodism and DePauw, a Modern Liberal Arts University." His presentation is scheduled for Saturday, March 28, at 9 a.m.
Access a complete symposium schedule by clicking here.
Last year, Baughman published Our Past, Their Present: Historical Essays on Putnam County, Indiana. The book includes more than one hundred essays accompanied by historic photographs and was published by the Putnam County Museum with assistance from DePauw.
Learn more in this article.
Back