DePauw Theatre Presents Shakespeare's Twelfth Night
February 21, 2009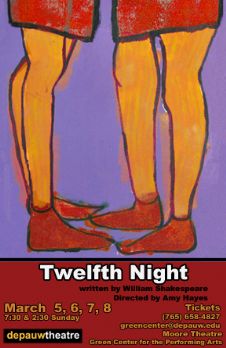 February 21, 2009, Greencastle, Ind. — Music, love, high jinks and intrigue abound in DePauw Theatre's upcoming tribute to spring, Twelfth Night. Arguably the best of William Shakespeare's comedies, this third production of the 2008-09 season opens on Thursday, March 5, at 7:30 p.m. in Moore Theatre of the Judson and Joyce Green Center for the Performing Arts. Additional performances are Friday and Saturday, March 6 and 7, at 7:30 p.m., and Sunday, March 8 at 2:30 p.m.
The play from which originates the quote, "Some are born great, some achieve greatness and some have greatness thrust upon them," Twelfth Night is a complex story that revolves around mistaken identity, the pursuit of love, and the games that people play. When Viola is shipwrecked on the mythical island of Illyria, she tackles fears and grief over the apparent drowning of her twin brother, Sebastian, by disguising herself as a young boy, Cesario, and hiring herself out as a page to Illyria's Duke Orsino. (at right: student cast members Camron Parker, Jared Norman, Matthew Ballinger and Sarah Grant)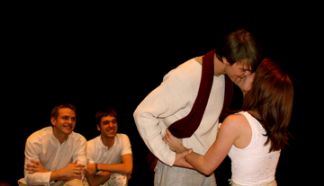 The Duke drips with love for the Countess Olivia, who rebukes his affections because she has sworn off love for seven years to mourn her own dear brother's passing. So much for vows, however, as Olivia soon discovers she is enamored of Cesario/Viola in his/her quest to win over Olivia for the Duke. To further complicate the matter, Cesario/Viola is falling desperately in love with the trusting Duke.
Meanwhile, the denizens of the lower level of Olivia's house -- maids, servants, clowns, relations that never go home, and other hangers-on -- party straight through the nights and entertain themselves by wrecking havoc on Olivia's steward, Malvolio, whose Puritan-esque qualities make him a party pooper, a poor sport, and a fabulous target. With time, all is untangled: true love reigns supreme, difficulties are smoothed, identities are restored, Sebastian lives, and spring is sprung.
Director Amy Hayes, instructor of communication and theatre at DePauw, has been captivated with this play for years. "The language of this play sticks with me. I love that it is about complicated, unpredictable people," she says. "The play moves me, makes me laugh, and is sexy: all the best parts of being alive."
Even if you have seen Twelfth Night before, you won't want to miss this production. The cast will engage your imaginative energy as it creates the story before your eyes with twelve actors and twevle boxes, a blank stage, a light board, a few musical instruments, and suggestions of costumes and props. The effect -- sans Shakespeare's Globe Theatre and Elizabethan costuming -- is not unlike that which Elizabethan audience's experienced when the play was first produced in 1602.
Twelfth Night is recommended for all audiences.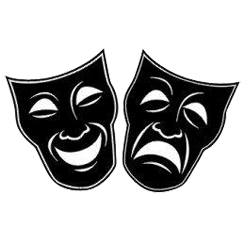 Tickets for the production are $3 for students and $6 for adults, and are available for purchase at the DePauw University Green Center for the Performing Arts Center Box Office. Box Office hours are Monday and Wednesday from noon to 2 p.m., Tuesday and Thursday 1 - 5, Friday 12 - 4, and one hour prior to show time. Information and reservations are available by calling (765) 658-4827 or emailing greencenter@depauw.edu.
Available for purchase are DePauw Theatre patron passes. Purchasers are entitled to five tickets for the price of four The passes are available at both student and adult price levels. To purchase or obtain additional information, contact the Green Center box office at the contacts listed above.
Back