The Life of Percy Lavon Julian '20
February 19, 2009
Born in 1899 in Montgomery, Ala., Percy Lavon Julian was raised by parents who deeply valued education. His mother, Elizabeth, a schoolteacher, and his father, James, first met at the Lincoln Normal School (
now Alabama State University), one of the few places in the state where a black person could continue school beyond the eighth grade. Upon James' graduation, his teacher, Joan Stuart, a native of Danville, Ind., offered him a chance to attend DePauw. With a young family to support, James turned Stuart down, instead going to work on the railroad for the U.S. Postal System. But opportunity would knock twice for the Julian family. Years later, when Percy graduated from the same school his parents attended, Stuart, still teaching, again extended the DePauw offer. This time, under different circumstances, a young black man could choose a new path.
As his train left Montgomery for DePauw, Percy Julian watched his family standing on the station's platform. His grandfather, a former slave freed by the Thirteenth Amendment, waved a hand missing two fingers, cut off as punishment for learning to write. It was a painful reminder of the past for Julian, and an image that would inspire him in the years ahead. Hungry and nervous when he stepped off the train in Greencastle, Julian was met by the outstretched hand of Kenneth C. Hogate '18, who would later serve as editor of The Wall Street Journal. It was the first white hand that Julian ever shook. Son of the local newspaper editor who, at Joan Stuart's insistence, had pulled strings to get Julian admitted to DePauw, Hogate helped Julian settle on campus.
The University soon found that Julian's education in Alabama had inadequately prepared him for college. In addition to his regular college courses, he took classes at the Indiana Asbury Preparatory Academy run by DePauw, and worked in a fraternity house to pay his expenses.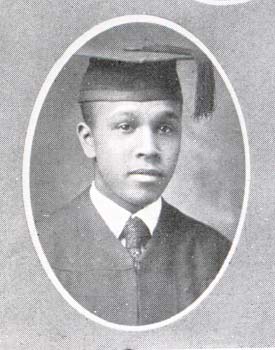 Despite significant academic, financial and cultural challenges, Julian excelled in chemistry. His success after his freshman year prompted his family to relocate to Greencastle so his five siblings - who would all later attend DePauw - could have similar opportunities.
Though diversity was not new to DePauw, which had admitted international and African-American students in the 1880s, not everyone in the college community was welcoming. Leslie R. James, associate professor of Religious Studies and director of the Black Studies Program, says that Julian's success made him especially hard for the University, struggling with the racial inequities of the time, to ignore. "There is a sense in which Julian, as a student and later as a professional, kept posing DePauw with the challenge to be racially inclusive. He was the classic case of someone from the margins who kept challenging the center to reinvent itself through the door of racial inclusiveness. His subsequent success and achievements, which could not be denied, were there for all to see, including the University that had helped to produce him in a significant way."
In 1920 Julian graduated first in his class and was elected to Phi Beta Kappa. Even with his outstanding academic record, however, Julian was denied an assistantship, fellowship or admission to graduate school. Instead, he found a position as instructor in chemistry at Fisk University. After two years at Fisk, he won an Austin Fellowship to Harvard University and earned a master's degree in 1923. Again, despite his strong academic and research record, no job offer was forthcoming, other than from black institutions. Julian taught at West Virginia State College and Howard University, where he was appointed head of the chemistry department.
In 1929, after the disappointment of being unable to pursue doctoral studies in the United States, Julian received a Rockefeller Foundation grant to study with the distinguished chemist Ernst Späth at the University of Vienna. He earned a doctorate in 1931 and returned to Howard University for two additional years.
In 1933 Julian accepted an appointment at DePauw as a research fellow at Minshall Laboratory, where he directed research projects for senior chemistry majors. He welcomed the chance to return to Greencastle and his alma mater, where two siblings were completing their educations. The senior research project launched in 1933 by Julian and his colleague, Joseph Pikl, produced 11 articles published in the Journal of the American Chemical Society during a three-year span. Many of the students Julian mentored went on to earn doctoral degrees and work with him in industry.
In addition to their work supporting students, Julian and Pikl completed research at DePauw that resulted in the total synthesis of physostigmine, a drug treatment for glaucoma, from the calabar bean. They were competing with Sir Robert Robinson of Oxford University, one of England's foremost chemists. Publication of this work established Julian's reputation as a world-renowned chemist at the age of 36.
Frustrated by his inability to secure a teaching position at DePauw - he was told that "the time wasn't right" - Julian turned to industry.
"It was as if DePauw had become the center of Percy Julian's world," says James, "a fact that the University at that time found hard to accept. So often, as Dr. Julian, the hero, pursued his epic journey, he was able to return to the University
for renewal before he set off on the next leg of his journey. I don't think he necessarily needed to. However, the fact is that his 'home' of DePauw found it difficult to receive him permanently, and he had to keep moving on. What is marvelous about it all is that Julian, in the midst of his struggles, kept good faith with himself, and with those who supported him. Consequently, opposition did not destroy him. On the contrary, it led him to outstanding success. He is one of the most outstanding, classic examples of what it means to say that 'uncommon success begins at DePauw.'"
DuPont offered a job to Pikl, but declined to hire Julian, to whom they explained that, although initially interested, they had been "unaware he was a Negro." In 1935 he was offered a position at the Institute of Paper Chemistry in Appleton, Wis., but was dissuaded by a local statute that "No Negro should be bed or boarded overnight in Appleton."
In 1936 a vice president of the Glidden Company, who also served on the board of the Institute of Paper Chemistry, hired Julian as assistant director of research of the paint and varnish manufacturer's Soya Products Division, where he quickly became director. During 18 years with Glidden, he built a great research facility.
Julian's research produced many patents and successful products for Glidden. He developed a commercial process for isolating and preparing soya bean protein, which could be used to coat and size paper, to create cold water paints and to size textiles. During World War II, the fire-extinguishing Aero-Foam - the U.S. Navy's "bean soup" - was Julian's brainchild. This soy protein foam was used to smother oil and gasoline fires that erupted on aircraft carriers, before the flames could engulf the ships. Julian's invention, a hydrolyzate of isolated soy protein, potentially saved the lives of thousands of American sailors.
Julian went on to synthesize the female and male hormones, progesterone and testosterone, by extracting sterols from soybean oil.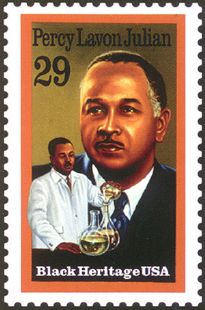 His biomedical research made it possible to synthetically produce large quantities of cortisone for the treatment of rheumatoid arthritis and other inflammatory conditions. His synthesis of cortisone reduced the price from hundreds of dollars per drop for natural cortisone to a few cents per gram.
In 1953 Julian left Glidden and founded Julian Laboratories, which he sold for more than $2 million in 1961. He later established the nonprofit Julian Research Institute, where he worked until his death from liver cancer in 1975.
Perhaps based upon his personal experience, Julian was widely recognized as a human rights advocate. His many honors include election to the National Academy of Sciences in 1973 and 19 honorary doctorates. He was the first recipient of DePauw's McNaughton Medal for Public Service. In 1990 he was elected to the National Inventors Hall of Fame, and in 1993 the U.S. Postal Service issued the Julian stamp in the Black Heritage Commemorative Stamp series. In 1999 the city of Greencastle renamed First Street to Percy Julian Drive.
"It must be considered that Dr. Julian is probably DePauw's most famous scientist," says James, "and one whose life is very much at the core of what DePauw seeks to be: a mirror of national and global community. Continuous reflection on his life will help DePauw renew its mission and purpose. At the same time, it will help to inspire many young persons, irrespective of ethnicity and gender, to pursue a career in science, and a life of service to humankind."
Back