Tiger Baseball Team Opens 2009 Season Tomorrow at Maryville
February 20, 2009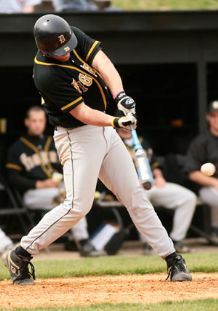 February 20, 2009, Greencastle, Ind. — The DePauw baseball team welcomes the return of 14 lettermen, including seven position players who started at least 20 games each last year, from a team which won a school-record 35 games against just 11 losses.
The Tigers open the 2009 season this weekend with a pair of Noon doubleheaders at Maryville (Tenn.) College. Live stats for the weekend set are available through Maryville.
Tenth-year head coach Matt Walker hopes to build off of last year's momentum which saw the Tigers ranked as high as 14th in the Division III Coaches' Poll.
"We return a lot of experience up and down the lineup," Walker said.
"Every year is a new year, but we look to build off of last year's accomplishments."
Senior Mike Stout (pictured), an honorable mention all-Mideast selection last year, moves back to third base after splitting time at first base and as a designated hitter last season. Stout batted .373 last year and led the Tigers with nine homers and a .676 slugging percentage.
Junior Taylor Hoffman and sophomore Ben Gardner split time at second base last year, but look to start at short and second, respectively. Hoffman hit .333 last season, while Gardner batted .288 in his rookie season and was successful in all 15 stolen base attempts.
Freshman Rob McPike will draw the starting spot at first base after transferring from Purdue where he played last fall. The southpaw may also see some time on the mound.
Senior Justin Weiner (pictured right) returns to center field and to the leadoff spot after earning first team all-Southern Collegiate Athletic Conference honors last year. Weiner hit .313, led the Tigers with 52 runs scored and was third in Division III with 39 stolen bases in 45 attempts. The 39 stolen bases were just one shy of matching the DePauw single-season record.
Junior Drew Holy returns to the lineup after missing most of 2008 due to injury. As a freshman, Holy started 24 games, mainly as a designated hitter, and batted .306. Holy will play either right or left field and will likely be joined by freshman Alex Berlyn.
Junior Jon Newman started nearly half the games in right field last year and hit .309 and will be used extensively as a designated hitter. Junior Chris Schenk is also among those who add depth in the outfield.
The Tigers also return a pair of experienced catchers in senior Jack Gavin and junior Sam Linette. Gavin led the Tigers in hitting last year at .373, while Linette hit .304 and stole 17 bases. Senior Matt Pustay brings experience behind the plate as well.
The biggest question mark lies within the pitching staff where DePauw graduated three starters who combined to start 31 games and a closer who was the school's all-time saves leader. The three starters, including SCAC Pitcher of the Year John Tschantz, combined to post a 20-7 record and hurl nearly 60 percent of the team's innings last year.
Junior Brad Gerlach started seven games last year and looks to lead the staff after posting a 5-0 record last year. Sophomore Mike Peterson as well as senior David Morefield and junior Brian Fisher round out the likely rotation as the season begins.
Junior Mitch Hannum should also be battling for a spot after missing much of last season due to injury. Freshmen who may be in the mix include J.B. Blanchard, Hobs Donovan, Scott Meyer and Mitch Strobl.
The Tigers return the bulk of a lineup which ranked 14th in the nation last year with a school-record 114 stolen bases.
"We look to build on last year's running game, but I think we have a good blend of speed and power in the lineup," Walker said.
"Obviously we graduated quite of bit of our pitching, but I'm excited for the opportunity a solid group of returning players will get along with one of our best freshmen classes of pitchers.
In voting by the SCAC head baseball coaches, the Tigers were picked second in the Eastern Division behind Rhodes. The Lynx totaled 34 points and three first-place votes, while the Tigers picked up 32 points and the other three first-place votes. Defending champion Trinity was the favorite to win the Western Division and the overall conference championship.
The Tigers are scheduled to open the home portion of their schedule on Saturday, February 28, when they host Anderson in a single game at noon.
Back