DePauw Extends Home Streak to 39 with Win over Sewanee
February 22, 2009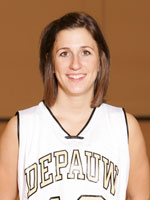 February 22, 2009, Greencastle, Ind. — DePauw's Cassie Pruzin (pictured) scored all 17 points in the second half as the 18th-ranked Tigers pulled away from Sewanee in a 75-55 Southern Collegiate Athletic Conference win.
The host Tigers improved to 21-4 overall and 12-2 in the SCAC, while Sewanee dropped to 4-20 overall and 2-12 in conference play.
The win lifted the Tigers to a 13-0 home record this season and extended their overall home win streak to 39 games and their SCAC home string to 47. DePauw has also won 56 consecutive regular season home contests.
DePauw never trailed in the contest and used a 7-0 run in the first half to grabbed a 20-8 advantage with just under six minutes left in the half. That lead reached 13 before Sewanee closed the halftime margin to 28-17.
Sewanee closed to within 36-30 four minutes into the second half, but Pruzin's two three-pointers sandwiched a Brianna Frigerio jumper and gave DePauw a 44-30 lead. Pruzin knocked in four threes in a three-minute stretch of the half. The host Tigers eventually pulled away to as much as a 23-point lead.
Pruzin led the Tigers with 17 points, five assists and four steals and nailed 5-of-9 three-pointers. Lauren Goff added 11 and Brooke Osborne followed with 10. Emily Marshall hauled down a game-high 12 rebounds as DePauw held a 48-28 advantage on the boards.
Rachel Miller paced Sewanee with 13 points followed by Lauren Gulley with 11 points and six rebounds. Cara Smiley followed with 10 points, four assists and three steals.
The Tigers shot 41.9 percent from the floor and set a school record with both 13 three-pointers made and 29 attempted. Sewanee shot 35.1 percent for the game.
The game was also final regular season home contest for DePauw seniors Pruzin, Andrea Travelstead and Sarah Merkel. As a class they've posted a 109-13 overall record which is tied for the most wins in Division III during that time. They also achieved a 52-4 SCAC record, a 51-1 home mark while winning all 28 home conference games and all 45 regular season home contests.
DePauw opens Southern Collegiate Athletic Conference tournament play on Friday, February 27, at Hendrix College. The Tigers face host Hendrix in a 3 p.m. CST game in the first round.
Back