Indianapolis Star Story Notes DePauw-Based Journalism Hall of Fame
February 22, 2009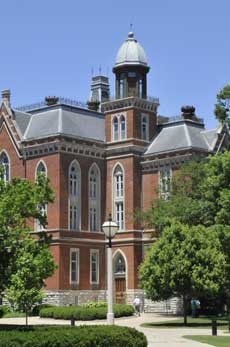 February 22, 2009, Greencastle, Ind. — "By 1903, according to a profile of Stewart at DePauw University's Indiana Journalism Hall of Fame, the paper was generally four pages, including local and national news," notes an Indianapolis Star story on the Indianapolis Recorder. Started in 1895 as a two-page church bulletin by George P. Stewart and Will Porter, the Recorder is America's fourth-oldest surviving African-American newspaper.
Both George Stewart and his son, Marcus, are members of the Indiana Journalism Hall of Fame, which is housed in DePauw's historic East College. It was in that building that a group of DePauw student journalists founded Sigma Delta Chi in 1909. Now known as the Society of Professional Journalists, the organization is the nation's most broad-based journalism organization, dedicated to encouraging the free practice of journalism and stimulating high standards of ethical behavior.
Access the story at IndyStar.com.
On April 17, the national leadership of the Society of Professional

Journalists will come to DePauw to mark the 100th anniversary of the organization's founding. Details will be announced soon. As part of the celebration, DePauw will present a Timothy and Sharon Ubben Lecture by former NBC Today host Jane Pauley at 7:30 that evening in East College's Meharry Hall. Learn more in this previous story.
The Indiana Journalism Hall of Fame has been located at DePauw University since 1976.
Back