2009 Commencement DVD is Now Available for Pre-Order
March 17, 2009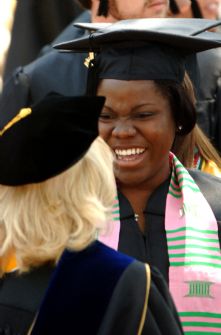 March 17, 2009, Greencastle, Ind. — For an eighth consecutive year, DePauw University will produce a DVD of its commencement ceremonies, providing a permanent keepsake of the special day for members of the Class of 2009 and their families. In light of current economic conditions, the disc will be sold at a cost which is approximately 20% less than it has been in the past. Orders are now being accepted at $19.95 for the first disc; additional discs sent to the same address will be $8 each (7% sales tax will be added to Indiana orders). An online order form is available here (DVDs of the 2002-08 commencements are also available).
"We're aware of the difficulties people are facing in this environment and are pleased to announce that we're able to pass lower replication costs along to graduates and their families," says Ken Owen '82, executive director of media relations at DePauw, who oversees production of the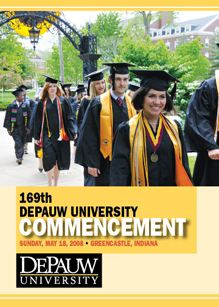 DVD. "This project is typically a break-even proposition for the University but is something we know is greatly valued, based upon the feedback we've received in past years. I'm pleased that we were able to reduce the price, which has been $25 in the past, by more than five dollars." (at right: cover of the 2008 commencement DVD; design by Dian Phillips)
The ceremony is scheduled to begin at 1 p.m. on Sunday, May 17, in the Holton Memorial Quadrangle (weather permitting).
The multi-camera production will include the entire program, including video of each graduate receiving his or her diploma. As in past years, the DVD's menu will allow you to quickly access the spot in the program you want to see. If you're looking for a graduate whose last name is Taylor, for instance, you click on the letter 'T' in the menu, you're immediately taken to the first person whose last name begins with the letter 'T' receiving his or her diploma. Users can also jump to specific speeches, or watch the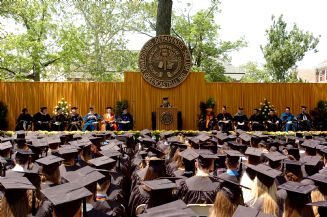 program from beginning to end. The DVDs are professionally replicated, not duplicated, and are housed in a decorative jacket.
The 2009 commencement disc will also include an array of bonus features, including campus highlights of the past four years (ranging from clips of the opening convocation at which the Class of 2009 was welcomed to DePauw, the 2006-07 women's basketball team's national championship and Ubben Lecturers); "Monon Memories" of the last four football battles with Wabash College for the prized Monon Bell; and a photo gallery of commencement day activities.
This will mark the 19th DVD that DePauw has produced -- including the last eight Monon Bell Classics, which remain available here (supplies are very limited of the 2002 and 2007 DVDs).

"When DePauw first offered a commencement DVD seven years ago, it was one of the first colleges in the nation to do so, and it's now something that our graduates and their families look forward to," says Owen, a 1982 graduate of DePauw. "What our graduates will experience in May is truly something they'll recall for the rest of their lives, and the DVD will allow them to revisit this special day, as well as other memories from their college years, whenever they like."
For more information on DePauw's 170th Annual Commencement, click here.
Back