Scott Riggle Named Tigers' Men's Head Tennis Coach
February 25, 2009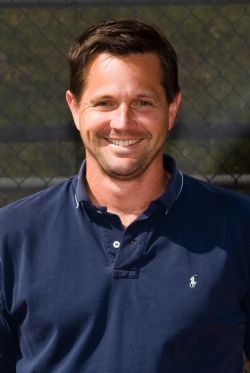 February 25, 2009, Greencastle, Ind. — Scott Riggle, DePauw's women's tennis head coach since 2000, will take over the reins of the men's team starting with the 2009-10 season. He will remain as the women's head coach.

Riggle becomes just the seventh DePauw men's tennis head coach since 1950 and will replace Tom Cath who, as previously announced, is leaving after this season to take a position as the director of Valparaiso University's Career Center.

"Tom has built a nationally-renowned program and we'll miss him," says Page Cotton, director of athletics at DePauw. "But we're really fortunate to have Scott who has the same outstanding coaching credentials and shows the same care and concern for the student-athletes."


"On one hand I'm sorry to see my closest friend on campus leave," Riggle notes. "On the other hand I'm honored to take over a program he has built so adeptly. It's one of the greatest honors of my career to coach the fine young men on his team."

In his ninth season as the women's coach, Riggle has posted a 147-57 overall record including 65-10 over the last three years. The program's winningest coach has led the Tigers to six NCAA Division III team appearances in his first eight seasons including quarterfinal trips in 2003 and 2006. His teams have recorded a 7-6 postseason record.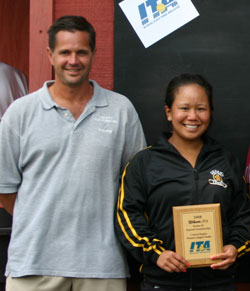 The 2002-03 Tigers set a school record with 25 wins against just four losses, while the 2005-06 squad shared the program's first Southern Collegiate Athletic Conference championship. Last year, DePauw won the first outright SCAC women's tennis championship. Overall, Riggle has earned four SCAC Coach of the Year awards.

Additionally, Riggle has coached nine student-athletes who earned a total of 20 Intercollegiate Tennis Association All-America awards and one who garnered ESPN The Magazine Academic All-America® honors. In 2007, he coached Liz Bondi '07 to the Division III singles title.

Prior to coming to DePauw, Riggle served as the men's coach at the University of Indianapolis during the 1999-2000 year and led the Greyhounds to a second-place finish in the Great Lakes Valley Conference including an appearance in the NCAA Division II Regional.

The Connersville, Ind., native earned both his bachelor of arts degree in English and master of arts degree in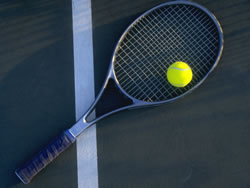 English from the University of Indianapolis. Riggle was a three-time Academic All-America® selection and the GLVC Scholar Athlete of the Year as a senior. He also earned the GLVC's Richard F. Scharf Paragon Award which is presented to an athlete based on academic excellence, athletic ability and achievement.

In addition to positions as a teaching professional at several different clubs, Riggle also coached the boys' team at Columbus (Ind.) East High School and posted a 117-35 record. He was the girls' coach at Columbus North where his teams were 146-19 and won six of nine regional titles.
To learn more, visit the athletics Web site.
Back