Journalist Brandon Gee '07 Receives Awards for Environmental Coverage
March 3, 2009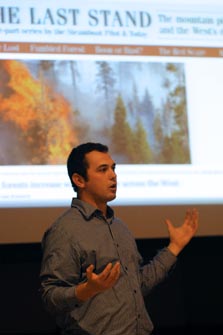 March 3, 2009, Greencastle, Ind. — Brandon S. Gee, a reporter with Colorado's Steamboat Pilot & Today and 2007 graduate of DePauw University, is the recipient of six first place awards and two second place honors in two separate journalism competitions. All but one of Gee's awards recognize his work on "The Last Stand," a five-part series that examined the mountain pine beetle epidemic sweeping across the Rocky Mountain west.
In the Colorado Associated Press Editors and Reporters annual awards contest, Gee received first-place awards for business reporting ("Boon or Bust?"), environmental story ("Fumbled forest"), and feature story ("Dealing with denial"), and shares the top award for best series with two other Pilot & Today staff members for "The Last Stand." All told, the series -- which Gee's individual stories were each a part of -- accounted for seven first place awards.
Gee won a second-place award for "Battle for the Mountain," which examined efforts by a ski/golf resort development on Battle Mountain to be annexed by the town of Minturn, Colorado.
In the Colorado Press Association's Better Newspaper Contest, Gee received another first-place award
for his work on "The Last Stand," and took home a second place prize in the "best business story" category.
The 2007 graduate returned to DePauw in November 2008 to make a Media Fellows/Science Research Fellows presentation (seen in top photo) on his coverage of the environmental stories.As an undergraduate, Gee was an English writing major and minored in political science. A Media Fellow, he served as editor of The DePauw.
Learn more about the AP and CPA awards at the Pilot & Today's Web site.
Back