Booksnag.com's Student Entrepreneurs
March 6, 2009
More than half of DePauw students are logged on to their Web site. Their mission is simple: to save students money when buying textbooks. Seniors Ryan D. Tinker and Zachary J. Koch created Booksnag.com as first-year students during Winter Term 2006 in response to their own need for reasonably priced textbooks. Today, their entrepreneurial and computer science skills have led them to a profitable business that has become one of the most popular ways to buy and sell books at DePauw.
The Feb. 18, 2007 issue of the Kansas City Star described Tinker as a "cog in America's entrepreneurial machine," and the team appeared on Inside Indiana Business, a statewide, syndicated TV program, in October 2006. Tinker's work as a member of the Management Fellows Program and Information Technology Associates Program (ITAP) contributed to his knowledge of running a small business. Koch is also a member of ITAP with a double major in computer science and religious studies.
"I love small business," Tinker said. He and Koch invested $500 dollars for the startup of Booksnag and since then have been able to fund and operate the site independently.
Booksnag is a free service to students that allows them to post their books on a public forum for a marked price. Students can "snag" other books they need for class and e-mail each other to arrange meetings for the exchange.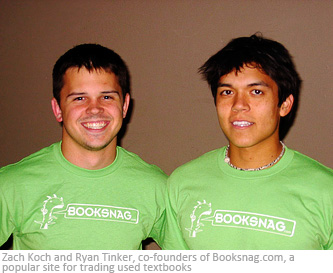 The site doesn't take a percentage of sales from books sold between students. If a book isn't available through a student exchange, the site offers suggestions at Amazon.com. Through a relationship with Amazon.com, Booksnag receives 7 percent of each Amazon purchase made through the site's Web search links.
The key to Booksnag's success is its convenience, marketability and DePauw's strong support system as a small liberal arts university. Tinker and Koch's advertising campaigns, such as the "Sexy Campaign" and their video documentary, allowed the team to use its marketing and business skills as well as knowledge of Web design.
"The original Booksnag looked terrible, but many students still signed up," Tinker said. With the Web site's redesign during summer 2006 and its signature green monster icon, more and more students got hooked. Today the site has 1,800 users, 1,110 "snags" and approximately 8,400 books posted.
"It's easy to spread the word among 2,300 students," Koch said. He also indicated that because of DePauw's size, there's a high likelihood that someone will post the book you need. Not only does DePauw's size aid in the success of student entrepreneurship, but also the students' support for one another.
"DePauw students are fiercely loyal to DePauw," Tinker said. "The DePauw community fosters homegrown entrepreneurial activity, spreads ideas quickly, and the Programs of Distinction connected us with mentors, fresh ideas and mature perspectives."
ITAP and Management Fellows provided Tinker and Koch with accessible advisers, such as David B. Becker '75, the founder of DyKnow, a company that produces interactive teaching software. Becker helped them create a business plan and brainstormed new ideas, and Koch's faculty adviser, Professor of Computer Science David A. Berque (who created the original software for DyKnow), also provided his feedback along the way.
The ITAP program is a selective, four-year honors program that allows students to intern and work with DePauw information technologies to support on-campus projects. Many of DePauw's computer science majors are involved in ITAP, but the program features students from a variety of majors and backgrounds. Students spend anywhere from 8 to 10 hours a week training and working either on or off campus.
The Management Fellows Program provides students interested in business and economics with the experience and education to pursue careers in public, private and not-for-profit enterprises. Students take core classes in economics, attend special lectures and complete a semester-long, full-time, paid internship.
Tinker and Koch added a new spin on the business with their semesters abroad. Tinker spent a semester on his Management Fellow internship in Hawaii working on Web design at a small magazine. He had always wanted to work in Hawaii, and the small business aspect drew him to the internship. Koch spent a semester studying Buddhism in Japan and traveled one summer to Senegal. Despite their distance, the team continued to maintain and update Booksnag.
The future holds many possibilities for Booksnag, but a final decision on its direction has yet to be determined. Tinker and Koch have started discussions about expansion to other universities, but they don't plan to make that change during their time as DePauw students. Where the Web site will go next will be up to the team's successors.
"We haven't decided yet, but we're open to suggestions," Koch said. "We'd like to keep it in the hands of DePauw students dedicated to our cause," Tinker said.
Following graduation, Tinker will work in Web solutions consulting for West Monroe Partners in Chicago. Koch is in the process of interviewing for jobs internationally and hopes to work in product management in China. Their experiences as DePauw honors students and self-made businessmen will carry on to their future careers.
Back