Lee Hamilton '52 Expresses Support for President Obama's Iraq Plan
March 6, 2009
March 6, 2009, Greencastle, Ind. — "Foreign policy gurus Lee Hamilton and James A. Baker III said Thursday they support President Barack Obama's 19-month timetable in Iraq and, if asked, would advise Obama to limit the nation's goals in Afghanistan," begins an Associated Press story. It adds, "Hamilton, a former Democratic congressman from Indiana, and Baker, a retired Republican secretary of State, led the independent Iraq Study Group in 2006." (photo, l-r: Hamilton and Baker)
Hamilton, a 1952 graduate of DePauw University, also co-chaired the 9/11 Commission. He tells AP, "I think we have to be very careful not to have mission creep in Afghanistan. Our objective in Afghanistan is to deal with al-Qaida and the extremists. I do not think the country can take on the responsibility of developing a democracy in Afghanistan. It's too much."
The president's plan includes greatly reducing U.S. troops in Iraq within 19 months, while sending 17,000 additional personnel to Afghanistan. (below right: Hamilton with DePauw student journalists)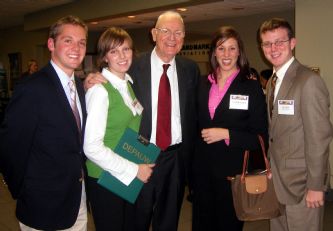 Access the complete story here.
Lee H. Hamilton is director of the Woodrow Wilson International Center for Scholars in Washington, D.C. Newsweek has called him "Mr. Integrity," while the New York Times' David Brooks opined of Hamilton, "The country is hungering for leaders like him: open-minded, unassuming centrists who are interested in government more than politics."
In a 2007 interview, Hamilton stated, "I had an undergraduate experience at DePauw University that certainly opened my eyes to a lot of possibilities." Learn more in this story.
Back