DePauw Students Help Greencastle Spread the Word on Pollution Control
March 7, 2009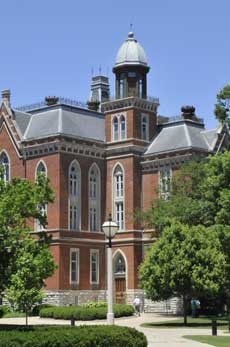 March 7, 2009, Greencastle, Ind. — "The City of Greencastle teamed up with the DePauw Environmental Club Thursday night to present an informational event at city hall to educate the public on the prevention of storm water pollution," reports the Banner-Graphic. Shannon Norman, the city planner, led the session on Greencastle's Municipal Separate Storm Sewer System (MS4) program, and was assisted by DePauw sophomore Gary Pett, "who helped her put together Thursday's event," writes Jared Jernagan.
The story explains that the MS4, or storm sewer system, is different from the city's sanitation system. "Because the water in the MS4 system is not treated, the things placed in Greencastle's storm sewers will end up in Big Walnut Creek, the Ohio and Mississippi rivers, and, eventually, the Gulf of Mexico," Jernagan notes. "With the prime goal of MS4 being education, Norman said she hoped Thursday's event had served its purpose."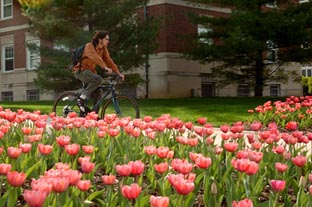 "If somebody learns something they didn't know before, we've had a successful public meeting," she tells the newspaper.
Access the entire text by clicking here.
DePauw students helped create an Indiana bill which would assist schools in installing geothermal heating and cooling systems. The Hoosier Environmental Council recognized the DePauw Environmental Policy Project as its "Organization of the Year," which was noted in NUVO and was also the subject of this feature.
Back