Prof. Emeritus Bill Cavanaugh Featured in Pennsylvania Newspaper
January 18, 2000
January 18, 2000, Greencastle, Ind. — "William Cavanaugh is a poet, one who displays beauty of thought or language in expression," begins a feature published in today's Tribune-Democrat of Johnstown, Pennsylvania. "The Moxham native has taught English at DePauw University in Greencastle, Ind., since 1965 and has had some of his own poetry published. He retired from teaching last May after receiving the Frederick C. Tucker Distinguished Career Award from DePauw, which recognizes the achievements of senior faculty members," writes Ruth Rice.
"It's about teaching, scholarship and service," Dr. Cavanaugh tells the newspaper. "I've taught poetry throughout my career. It's central, especially the Victorian, which is all poetry and fiction.
The article points out that Cavanaugh has published two books -- Introduction to Poetry and Guide to British Literature Since 1832 -- and that his students at DePauw included bestselling novelist Barbara Kingsolver, who graduated in 1977.
The professor received a 1970 Ford Foundation grant to write poetry in Ireland, won the Harte Crane Poetry Prize in 1976, and served as a visiting professor at a number of institutions, including the University of Notre Dame and Homerton College at Cambridge University in England. His work has been published in the San Francisco Poetry Journal, Southern Poetry Review and Hopewell Review.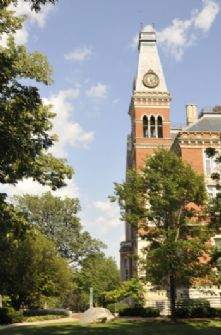 "In the classroom, Cavanaugh's specialty was Victorian and modern British literature, with an affinity for Irish novelist James Joyce," writes Rice. "Cavanaugh is considered a respected Joyce scholar by his colleagues and offered a popular upper-level seminar on Joyce."
"James Joyce is the most important British writer in the 20th century, and he kept that tradition alive," Tom Chiarella, the current chair of DePauw's English department, says of Cavanaugh. Chiarella tells the newspaper that his former colleague "did it with real style. It was the essence of what he loves. We miss it after only a year."
In retirement, Professor Cavanaugh tells the Tribune-Democrat he'll continue to work on his poems, which can take as long as five years to complete after as many as 20 rewrites. "I plan to keep at it," he declares. "It's not an interest I can lose. It's like part of my hide."
Read more in this previous story.
Source: Johnstown (Pa.) Tribune-Democrat
Back