Women Fall in NCAA Tourney Opener, 62-50
March 6, 2009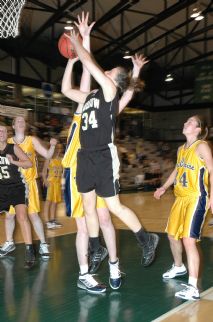 March 6, 2009, Bloomington, Ill. — DePauw University's women's basketball team shot just 25.8% from the field and fell to the University of Wisconsin-Eau Claire tonight in the first round of the NCAA Division III tournament, 62-50. The Tigers, who came into the contest ranked #21 in the nation by USA Today/ESPN, end their season with a 22-6 record. The #13 Blugolds improve to 24-5 and continue on in the tournament. (photo from tonight's game by Mark Beckenbach, Ohio Wesleyan University)
Senior Cassie Pruzin (pictured at right) led the Tigers with 15 points, while junior Emily Marshall had a like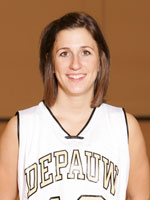 number of rebounds.
DePauw connected on just 17 of its 66 field goal tries, and had 17 more shots than their opponents. The Tigers, who trailed by as many as 20 in the second half and never led in the contest, were outrebounded 56-to-36.
It was straight postseason appearance. The Tigers claimed the 2007 Division III national title with a 55-52 win over Washington-St. Louis.
For comprehensive coverage of tonight's game, which was played at Illinois Wesleyan University, visit the team's online page.
Back