Community to Celebrate 100th Birthday of Rowena Bake '31
March 8, 2009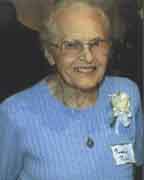 March 8, 2009, Greencastle, Ind. — Rowena (LaFuze) Bake, a 1931 graduate of DePauw University, will celebrate her 100th birthday tomorrow, and her family and friends will gather next Sunday for a reception in her honor, reports the Richmond Palladium-Item. "The open house will be 2 to 4 p.m. March 15 at the Beeson Clubhouse at the Winchester Golf Club in Winchester, Indiana," notes the newspaper.
"She grew up in Liberty [Indiana] and remembers walking two miles to school because there was no bus. Sometimes, she and her older sister drove a horse-drawn buggy to school, leaving it at a Liberty livery stable. Later in life, the lumber from that livery stable was used to build a barn on the family farm near Kitchel. After graduating from high school in 1927, she attended DePauw University in Greencastle. She majored in music and teaching, graduating in 1931. She went on to teach at Kitchel, Union schools at Modoc and Randolph Southern in Lynn. Bake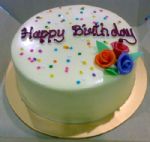 retired at age 65 but continued to substitute teach for about 10 years."
"I enjoyed teaching. I loved it," Bake says.
Read more at the Palladium-Item's Web site.
Back