Bates College Announcement Cites Frank Warren's Ubben Lecture at DePauw
March 9, 2009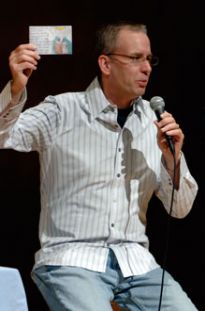 March 9, 2009, Greencastle, Ind. — A statement made by PostSecret creator Frank Warren at a DePauw University Ubben Lecture is being used to promote his speech tonight at Bates College in Lewiston, Maine. The news release announcing Warren's Bertha May Bell Andrews Lecture at Bates cites a November 26, 2007 statement he made at DePauw: "I think it's natural to want to hide from the parts of our life that we find confusing or painful, but if we do they'll haunt us forever."
Warren's idea -- to have people submit anonymous postcards with their secrets and post them on a Web site -- is a worldwide phenomenon which has spawned four New York Times bestselling books. A summary of his DePauw appearance, including video and audio clips and photos, can be found here.
Established in 1986 through the generous support of 1958 DePauw graduates Timothy H. and Sharon Williams Ubben, the Ubben Lecture Series welcomed David Plouffe, Barack Obama's presidential campaign manager, to the Greencastle campus last month. Greg Mortenson, author of Three Cups of Tea, was a fall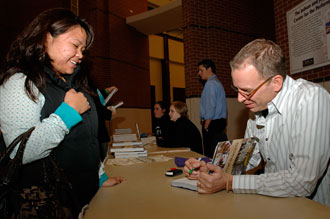 guest. Veteran award-winning journalist Jane Pauley will speak April 17.
To view a complete roster of Ubben Lecturers -- which includes links to video clips and news stories of speakers such as Mikhail Gorbachev, Tony Blair and Benazir Bhutto -- click here.
A video retrospective of the Ubben Lecture Series -- produced by DePauw students -- was premiered in June 2008 over Alumni Reunion Weekend. Read about the project, and view the piece, via this article.
Back