Prof. Tony Catanese Authors Haitians: Migration and Diaspora
December 22, 1999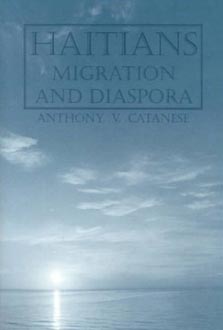 December 22, 1999, Greencastle, Ind. — Haitians: Migration and Diaspora by Anthony V. Catanese, professor of economics and management at DePauw University, has been published by Westview Press.
"Haitian boat people have been in the news since the early 1980s, and are part of a much longer migration history between the world's first black republic and the United States," notes the synopsis which appears on the book's back cover. "The vast majority of Haitians are desperately poor rural residents; Haitian Americans, on the other hand, are concentrated along the urbanized Atlantic seaboard and are not ensnared in poverty. Haitians: Migration and Diaspora uses U.S. census and Haitian
interview data, coupled with a broader analysis of Haitian rural conditions and the effects of foreign and domestic policy on their movement, to underscore the need for a comprehensive rural strategy for economic development in Haiti. Such a strategy, Catanese argues, is vital for improving the lives of Haitians and removing the impulse for leaving their preferred rural domiciles."
Dr. Catanese has written papers on Haiti for the Canadian Journal of Development Studies and Journal of Developing Areas, and presented papers at the annual meetings of the Western Economics Association and Haitian Studies Association. He has lived and worked in Haiti's rural areas for many years.
Learn more about the professor in this previous story.
Back