Coach Brad Stevens '99 Leads Butler to Horizon League Championship Game
March 10, 2009
March 10, 2009, Greencastle, Ind. — Brad Stevens, head men's basketball coach at Butler University and 1999 graduate of DePauw, is quoted in a Cleveland Plain Dealer story today on Butler's venerable Hinkle Fieldhouse. "I grew up 20 minutes from here and played on the floor as a kid," Stevens tells the newspaper, which notes that he "went to DePauw and worked in marketing before going into coaching." The 81-year-old building will host tonight's Horizon League championship game between Butler and Cleveland State.
Stevens, in his second season as the Bulldogs' head coach, states, "When I came here as the head of basketball operations and they gave me the key to the building, it was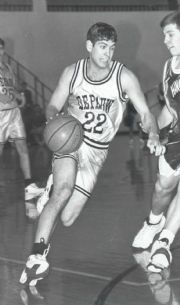 better than a paycheck. There is something about sitting up in the stands all by yourself when the place is empty."
Joe Maxse writes, "The 16th-ranked Bulldogs (26-4) have continued the tradition of making it their sanctuary against the bigger schools and programs. They are 15-1 at home this season, 37-2 in their last 39 home games against Horizon League foes and 125-16 (.887) on their court since the 1999-2000 season." (at right: Stevens playing for DePauw as an undergraduate)
Access the article at the newspaper's Web site.
On March 2, Brad Stevens was named Horizon League "Coach of the Year" and in January received the Hugh Durham Award, presented to the nation's top mid-major coach. He is one of 10 finalists for U.S. Basketball Writers Association Coach of the Year award.
Learn more about Stevens, who was an economics major and Management Fellow at DePauw, in this previous story.
Back