Chorus Presents 'Americana: American Folksongs and Spirituals' Sunday
March 11, 2009
March 11, 2009, Greencastle, Ind. — The DePauw University Chorus will present a concert this Sunday, March 15, at 3 p.m. in Kresge Auditorium of the Judson and Joyce Green Center for the Performing Arts. The program, titled "Americana: American Folksongs and Spirituals," will be directed by Gabriel Crouch and accompanied by Nariaki Sugiura and Phillip Blaine. The performance is free and open to the public.
The concert will feature several tradition works, including "The Gift To Be Simple" and "Shenandoah," as well as a variety of spirituals. The concert will also feature "Stomp Your Foot" from Aaron Copland's opera The Tender Land and "The Flames of Freedom" by Samuel Adler, who served as composer-in-residence this spring for DePauw's Music of the 21st Century program. (at right: Adler working with DePauw student musicians on February 27, 2009)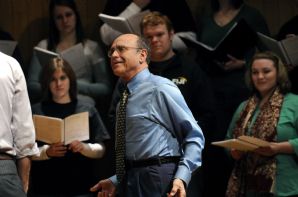 "As the title suggests, this program celebrates America's huge contribution to choral music in the last 100 years," explains Crouch, instructor in the DePauw University School of Music. "Our audience will hear arrangements of three of the nation's best-loved folksongs, two brilliant spiritual arrangements, and compositions by three of the modern era's greatest exponents of choral music -- Samuel Adler, Aaron Copland and Eric Whitacre."
For more information about events, visit the DePauw School of Music online.
Back