Steve Setchell '96 Helps Make Greencastle Greener
March 13, 2009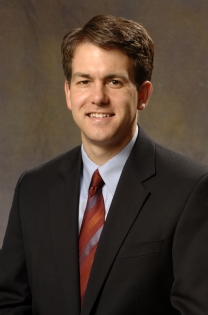 March 13, 2009, Greencastle, Ind. — "I'm a proud representative of a really remarkable group from this community -- 100 strong from all corners of this community and Putnam County," says Steve Setchell, a 1996 DePauw University who is chairing a group that is working to improve Greencastle's sustainability initiatives. At last night's meeting of the Greencastle City Council, "Setchell presented each council member and Mayor Sue Murray with a 28-page report on the groups ideas for 'environmental solutions to strengthen our community, economy, culture and quality of life,'" reports today's Banner-Graphic.
Since December, more than 100 citizens have been engaged in a process which examined such things as local food and markets, transportation and transit, energy conservation and alternatives, recycling, and communications and education. DePauw alumni, students, faculty and staff were an active part of the community-wide effort.

Says Setchell, ""This citizen group met at the invitation of Mayor Sue Murray as an outcome of the City of Greencastle's Community Forward Summit. Mayor Murray's 2008 signing of the U.S. Mayor's Climate Protection Agreement has led to a number of environmental policies resulting in Greencastle being named Green Community of the Year by the Indiana Association of Cities and Towns, a distinction it shares only with Bloomington."
Jared Jernagan writes, "Among the highlights of the group's work, Setchell especially highlighted his hope that the work will continue in trying to find solutions on carbon emissions, alternative fuels, new forms
of recycling and expanding the local farmer's market, among many other goals. 'One of our greatest hopes is, of course, that this work will continue,' Setchell said. Mayor Murray then informed council there will be an ordinance on April's agenda for the creation of a permanent sustainability commission for the city. Besides the possible creation of the commission, the council will also have Setchell back next month after they've had time to review the group's report."
Steve Setchell, who majored in English (writing), is a major gifts officer in the University's development office.
Also at last night's meeting, city planner Shannon Norman "introduced the board to Tim Martin. He is a Bonner Scholar at DePauw and is currently working with Norman and members of the sustainability group on researching community garden programs."
Access the full story at the newspaper's Web site.
DePauw is partnering with the city on environmental efforts. On September 15, 2008, DePauw President Brian W. Casey signed the American College & University Presidents Climate Commitment (seen at left), joining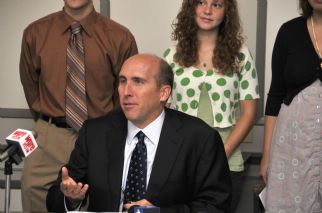 575 college and university presidents and chancellors across America who are pledging to neutralize the greenhouse gas emissions of their institutions and make environmental awareness a key component of campus life. Learn more about DePauw's sustainability efforts by clicking here.
DePauw students worked with a state legislator to craft environmental legislation. Learn more in this article.
Back