Advertising Age Writes of Soviet Misunderstanding Over Marvin's Banner
January 13, 1986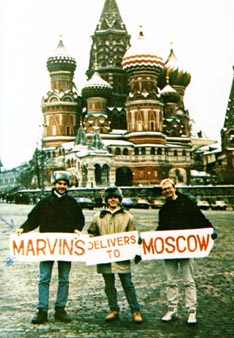 January 13, 1986, Greencastle, Ind. — "Four DePauw University students brought their acumen in advertising to Moscow last fall and ended up in the slammer for it," notes the new edition of Advertising Age. "The students landed in jail after they unfurled in the middle of Red Square a pizza-loving banner proclaiming: 'Marvin's delivers anywhere!'"
The "Adwatch" column continues, "Ralph Raymond, an assistant professor of political science at DePauw, Greencastle, Ind., suspects the Soviets assumed that 'Marvin' was a missile. In reality, it's a popular pizza parlor back at DePauw. The students were released after spending two hours in a cell populated by drunks. Marvin's owner Marvin Long says he was flattered by the far-flung outdoor ad showing and would consider opening a franchise in Red Square."
Visit Ad Age online.
Back