Games vs. White Sox "Outstanding Opportunity" for DePauw Baseball Team
April 8, 1986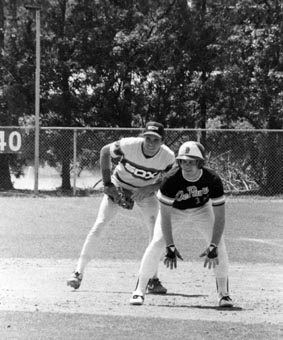 April 8, 1986, Greencastle, Ind. — "It was a great experience for us," says DePauw University head baseball coach Ed Meyer '62 says of three games his team played against the Chicago White Sox. The Tigers visited the Major League Baseball team's spring training facility in Sarasota, Florida, and played 3 games against single-A and rookie league White Sox squads, winning one. (at left: DePauw freshman catcher Joe Klupchak takes a lead off of first base)
"We played very well against very strong competition, and it was exciting to be in the spring training atmosphere."
The DePauw visit covered March 29 - April 5. The Tigers won the opening game, 8-5, and outhit their opponents in the next two contests, but late-inning comebacks by the Pale Hose left the black and gold from Greencastle 8-5 and 6-5 losers. (at right: DePauw junior Todd Samuelson scores)
Among those in attendance for the game was White Sox general manager Ken "Hawk" Harrelson;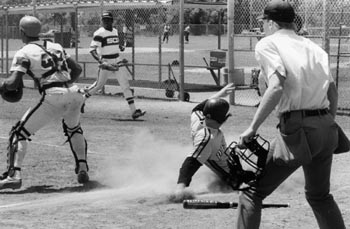 Alvin Dark, director of the Sox minor league farm system and former big league manager; and retired players Dick Allen and Jose Cardenal.
"I was very pleased with the way we played against the Sox," added Coach Meyer. "It was an outstanding opportunity for us, and the people from the White Sox organization couldn't have been nicer to us."
To learn more about DePauw's baseball team, visit the program's official Web page.
Back