Prof. Woody Dudley Offers a Look at His "Crank File"
October 4, 1986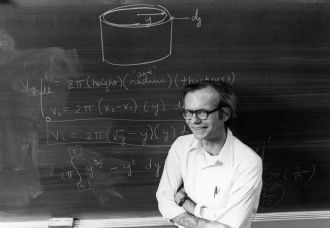 October 4, 1986, Greencastle, Ind. — Buried in the files of the department of mathematics at DePauw University are dashed hopes of hundreds of "mad mathematicians" -- misguided number-jugglers who believe they solved unsolvable math problems. This collection of "crank" mathematics -- reportedly the largest in the world -- belongs to Underwood Dudley, professor of mathematics at DePauw, who for more than 30 years has cataloged thousands of treatises from people obsessed with disproving such mathematical certainties as 2+2=4 or the impossibility of trisecting an angle.
"These things just can't be done, yet these people just slave away on it," Dudley says, "sometimes all their lives."
For example, a letter in the collection is from a man in Dusseldorf, Germany, who wrote in 1973 that after 12,000 hours of work he had discovered the trisector of the angle.
"Nonsense," states Professor Dudley. "This poor deluded man had devoted six years of his life to something as useless as trying to find two even numbers whose sum is odd."
Dudley's collection includes "cranks" dating back to the last century and from all over the world. He has corresponded with many of the contributors and even visited some of them. The older "crank" literature was collected by Dr. Dudley in the Library of Congress.
One individual, writing in 1980, said of his theory of angle trisection, "Trust that this effort of mine will prove a benefit to science. I will forgive the years of toil for the glory of the achievement." Another, writing in 1975 from Guyana, said that divine revelation had guided him to the solution of the trisection.
Virtually all "cranks" are male, and most are elderly, Dr. Dudley observes. "They're almost all amateur mathematicians, although I received a few from college professors. They just
get carried away with their numbers. It's a hobby that's gotten out of control. Most of them are essentially normal in every way, except when it comes to this obsession with numbers."
The math professor opens one file and displays a manuscript in which the author has meticulously written 500 pages of step-by-step equations that make no sense whatsoever. Another file contains beautifully drawn geometric diagrams "that prove nothing," the professor asserts. "I just don't know why they do it. They're convinced they have something, even though it makes no sense."
Dudley once wrote to 600 universities asking him to forward the crank letters they receive. "That brought in a mountain of this stuff," he says. "We're always going to have these people, but once I write my book about crank mathematicians, they'll all go and start bothering the physicists and the chemists. They'll start disproving such things as the theory of spatial relativity."
Back