Prof. Woody Dudley Publishes Mathematical Cranks
September 8, 1992
September 8, 1992, Greencastle, Ind. — Mathematical Cranks, a new book by Underwood Dudley, professor of mathematics at DePauw University, is "a delightful collection of true accounts of individuals who claim to have achieved the mathematically impossible," opines Choice. The review adds, "It is hard to put down and provides topics for an unending series of interesting discussions. The organization and breadth of the book are impressive, supported by a helpful index and a list of resources that encourage further explorations. A classic."
In a 1986 story, Dr. Dudley detailed how he has collected thousands of treatises from people obsessed with disproving such mathematical certainties as 2+2=4 or the impossibility of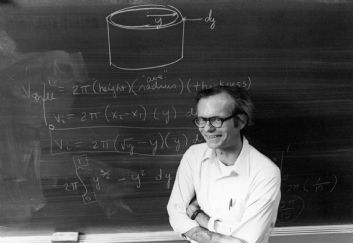 trisecting an angle. "These things just can't be done, yet these people just slave away on it," the professor sais, "sometimes all their lives."
The new book, published by the Mathematical Association of America, is a collection of the best of those missives.
"This humorous and charming book of essays is for all readers interested in the human side of mathematics," opines Mathematics Teacher. "It is well written in an informal conversational style."
Dudley joined the DePauw faculty in 1967. His other books include A Budget of Trisections and Elementary Number Theory.
Back