Butler Coach Brad Stevens '99 Readies Bulldogs for NCAA Tournament
March 17, 2009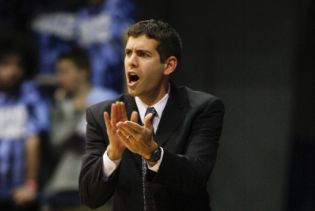 March 17, 2009, Greencastle, Ind. — "A 1999 graduate of DePauw University, Stevens started at Butler at the bottom of the coaching totem pole: director of basketball operations," notes the New Orleans Times-Picayune in a story examining the success of Butler University head men's basketball coach Brad Stevens. His Bulldogs, ranked 21st in the nation, take on #22 Louisiana State University in the first round of the NCAA Tournament Thursday.
"The Butler men's basketball team exudes youth, and it doesn't stop with the starting lineup. Not only do the Bulldogs start three freshmen, but 31-year old coach Brad Stevens looks like the sixth man when he stands next to them. Don't let that fool you," writes Jim Kleinpeter. "In two years, Stevens has racked up 56 wins, including a school-record 30 last season. Only one other Division I Coach, North Carolina's Bill Guthridge (58, 1997-98, '98-99) had more in his first two seasons."
Baton Rouge ABC television affiliate WBRZ notes that Butler's success "starts with Stevens, the coach. He grew up outside basketball-mad Indianapolis and attended DePauw University in Greencastle, Ind., a short drive west of the city. Stevens played basketball there, but he
didn't fit the stereotype of the half-witted jock. He majored in economics and, upon graduating in 1999, started on a career in marketing. Eventually, Stevens made a professional U-turn, opting for a job at Butler as director of basketball operations -- which, at most programs, includes such glamorous duties as setting up hotel reservations. That turned into a job as full-fledged assistant -- and when then-head coach Todd Lickliter left for Iowa last year, Stevens soon found himself as the third-youngest head coach in the nation. The youngster hasn't done so bad. In two seasons, Stevens owns a 55-8 record."
Read the complete articles at the Web sites of the Times-Picayune and the TV station.
Learn more about Brad Stevens, seen in the photo above right playing for the Tigers as an undergraduate, in this recent story.
Back