Varsity Swimmers Compete at Nationals
March 17, 2009
After seven months of intensive training, eight of DePauw's varsity swimmers have arrived at nationals. They compete Wednesday, March 18, through Saturday, March 21 for the NCAA Division III Swimming and Diving Championships hosted by Macalester College. National qualifiers include senior Amanda Stier, juniors John Cook, Steve Klabak and Charlie Boehme, sophomores Callie Boehme and Josh Baugh, and freshmen Catie Baker and John Montgomery. The teams traveled to the University of Minnesota Aquatic Center on Monday.
Stier, who is also captain of the women's team, will race the 200 IM, 100 fly and 200 fly events for her final year. Boehme will race the 500 freestyle, 400 IM, and 1650 freestyle. Baker will be competing in nationals for her first year for the 200 IM, 100 breaststroke and 200 breaststroke.
"I feel a huge sense of relief to finally know that we've made it," said Boehme.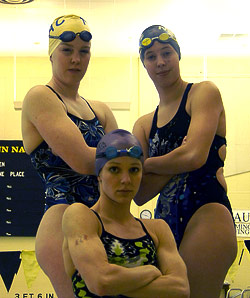 Her brother, along with the rest of the male qualifiers, will be competing in the 200, 400 and 800 relays. Boehme races the 400 IM, Klaback the 50 and 100 freestyle, Baugh the 100 breast and 200 IM, and Montgomery the 200 freestyle. Cook, named SCAC Male Swimmer of the Year, automatically qualified to swim the 50, 100, and 200 freestyle events.
"It's been a really rewarding experience," said Charlie Boehme. "I like the idea of being able to contribute to a strong program right away and go to nationals."
With almost twenty hours per week dedicated to practice, team members say varsity athletics have taught them the skills they need for time management, healthy lifestyle habits, and strong academics.
"We need a full night's sleep and time for dinner, practice, homework and relaxing. It makes you tougher and more responsible," Boehme added. Outside of athletics, he dedicates his time to studying guitar through DePauw's music school as well as participating in his fraternity, Beta Theta Pi.
"Most of us do better when we're in season because we don't put anything off" said Stier. She's a member of Kappa Omicron Nu, the kinesiology honors society, teaches swim lessons and is a member of Alpha Chi Omega.
Her love for athletics and her major, kinesiology, will follow her after the season and the school year conclude. Stier has been accepted into the doctorate of physical therapy program at the University of Dayton.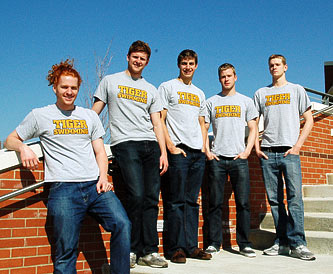 Baker is pursuing mathematics and computer science majors and Boehme plans to continue studying sports medicine.
Athletes are also drawn to the atmosphere of a Division III athletic program.
"When you swim for DePauw or a Division III team, you're swimming with people who genuinely want to be there," Stier said. "The team really bonds. Everyone is supportive of each other and you'll always have a study buddy when you're on the road for meets."
Baugh said the swim team was a major factor in choosing DePauw.
"Swimming for me is kind of what put DePauw above all other schools because I put academics first and DePauw is equally as good academically as other universities I looked at who didn't have strong swim programs," he said. Baugh is looking to declare a biology major and study environmental research ecology.
"It's something employers will be able to look at and respect that you're a 4-year varsity athlete-you have the work ethic, time management skills, determination, all of that makes it worth it on top of being able to compete, which you can't really do when you leave school," Baugh added. "It makes you overall a better person."
To view nationals results, visit DePauw's athletic homepage.
Back