Assemblyman Dave Jones '84 Seeks to Extend Health Benefits for Laid Off Californians
March 24, 2009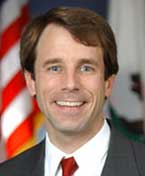 March 24, 2009, Greencastle, Ind. — "Quick passage of this bill is critical in order to meet the health care needs of California families," says Dave Jones. A member of the California State Assembly and 1984 graduate of DePauw University, Jones is co-sponsor of legislation which "would pave the way for Californians who are laid off from small businesses to obtain financial assistance for health-insurance premiums," reports the Sacramento Bee.
The newspaper notes, "The federal government currently offers to pay 65 percent of the premium for workers who were laid off after Sept. 1, retained health-care benefits formerly provided by their employer, and who worked for businesses with a work force of 20 or more. The aid is available for nine months. AB 23 would allow workers laid off from smaller firms, employing two to 19 employees, to be eligible for the subsidy. The state would not be required to continue the
program once federal stimulus funds run out. The bill also requires health-care providers and insurers to notify eligible families about the federal aid."
Jones, a Democrat, chairs the California Assembly's Health Committee.
Read the complete story by clicking here. Another write-up can be found in the Sacramento Business Journal.
Learn more about Dave Jones in this previous article.
Back