Newspaper Article Details History of McKim Observatory
March 30, 2009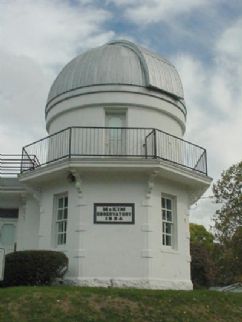 March 30, 2009, Greencastle, Ind. — "Putnam County star gazers don't have to go outside to check the sky because they have a telescope in their own backyard thanks to DePauw University," begins an article published in today's edition of Greencastle's Banner-Graphic. "The McKim Observatory was built in 1884, around the same time Indiana Asbury University became DePauw University," writes Maribeth Ward. "Washington C. DePauw, who was the president of the University's board of trustees in 1881, was convinced that an observatory was an important part of his plan to strengthen and expand the University. He talked to his friend Robert McKim and convinced him of the need for an observatory."
The story notes that when the Observatory was completed in January 1884, it was situated on "a track of rolling farmland about a mile from campus and the highest ground for several miles. According to DePauw's history, there were plans for a short time to move the entire University to this location at Highridge and DePauw Avenues, but by 1901 those plans were dropped."
As the newspaper points out, McKim Observatory was added to the National Register of Historic Places in late 1979. A short time later, Professor Howard Brooks and a group of DePauw students worked to restore the facility. "The chronograph and transit telescope were returned to working order," writes Ward. "The electrical clock drive was removed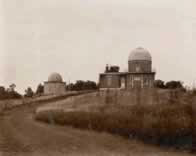 and the original gravity drive was reinstalled on the Clark refractor. Interior walls were stripped and repainted and the oak floors were refinished. In 1985 a deck was added over the roof of the library, providing convenient observing space for classes and special groups."
The article adds, "The public is welcome to the McKim Observatory open houses [which are] usually held monthly."
Read more at the Banner-Graphic's Web site, or in the online edition of the book, DePauw: A Pictorial History.
Back