Tigers Fall to Anderson in Rain-shortened Game at Victory Field
April 2, 2009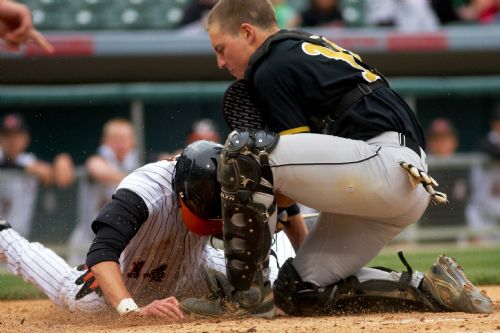 April 2, 2009, Indianapolis, Ind. — Anderson scored four unearned runs in the bottom of the fourth and held on for an 8-7 win over DePauw at Victory Field in a game called due to rain after the top of the eighth. The Tigers dropped to 14-10, while the Ravens improved to 12-8.
DePauw got off to a quick start with three in the first as Justin Weiner led off with a single and moved to second on Taylor Hoffman's bunt single. Mike Stout then hammered a double to left center scoring both. Rob McPike singled Stout to third and Drew Holy delivered a sacrifice fly to left.
Anderson scored twice in the bottom of the opening frame as Chris Jarrett led off with a single. He stole second and scored on Cody Young's triple to right center. Brad Schnepp's grounder scored Young and made it 3-2.
The Tigers extended the lead to 5-2 in the third as McPike singled and moved to third on Holy's double. Sam Linette's base hit to right scored both. Jarrett led off the third wtih a single, stole second, moved to third on Jeremy Hazen's fly out to right and scored on Young's sacrifice fly.
Anderson's Brett Detty reached on a DePauw infield error to lead off the fourth and stole second. He advanced to third on a passed ball and scored when Daniel Hiatt grounded out to short. Grant Choler then reached on an infield single and moved to third on Jarrett's base hit. After Jarrett moved to second on a wild pitch, Hazen scored a pair with a hit and Young tripled in Hazen to make it 7-5.
Weiner led off the DePauw seventh with a single and stole second. He moved to third on Hoffman's fly out to right and crossed the plate on Stout's sacrifice fly. Anderson countered in the bottom of the seventh as Young hit a solo homer to left center.
Jon Newman led off the top of the eighth with a walk and moved to second on a passed ball. Holy's single advanced Newman to third before Linette lifted a sacrifice fly to center. After the top half of the inning, lightning forced the teams off the field and shortly thereafter the game was called.
The Tigers totaled eight hits led by McPike and Holy with two each. Stout and Linette drove in three each and Weiner scored a pair. The Ravens totaled 10 hits with Jarrett and Young each totaling three. Jarrett scored three and Young knocked in four.
Shane Nevers picked up the win and improved to 3-0, while David Addington pitched a scoreless eighth for his first save. Brian Fisher suffered the loss in relief and slipped to 0-2.
DePauw hosts Birmingham-Southern on Friday at 4 p.m. in the first of a three-game series at Walker Field. Friday's game will be carried live by WGRE with live stats also available.
Back