Brittany Bulleit '05 Appointed to Assistant Prosecuting Attorney Post
April 3, 2009
April 3, 2009, Greencastle, Ind. — Brittany A. Bulleit, a 2005 graduate of DePauw University, has been appointed assistant prosecuting attorney in Houghton County, Michigan. She has been serving as a judicial advisory assistant in the Genesee County courts, and will assume her new position on April 13.
"The job marks a homecoming for Bulleit, who grew up in Houghton and was born at Portage View Hospital in Hancock," reports Houghton's Daily Mining Gazette. "After graduating from Houghton High School, Bulleit got her undergraduate degree from DePauw University and her law degree from the Michigan State University College of Law ... Bulleit said she got into law thanks to a long-standing interest in both law and psychology. While both have an analytical, problem-solving side, she said, 'I also think both career paths are about helping people, and I was drawn to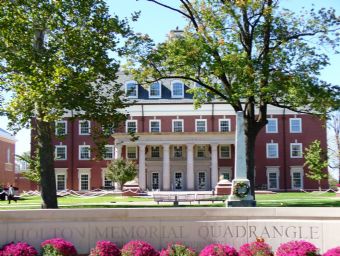 that as well.'"
Bulleit was a psychology major and Science Research Fellow at DePauw and graduated magna cum laude.
Access the complete story at the newspaper's Web site.
In 2005, Brittany Bulleit was one of three students in the psychology department at DePauw University to receive undergraduate research grants from Psi Chi to support their research on the communication of emotion. Learn more in this story.
Back