Percussionist B. Michael Williams In Residence at DePauw, April 14 - 16
April 4, 2009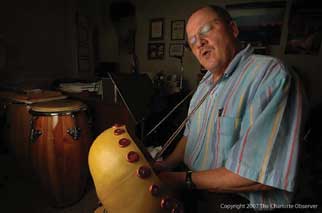 April 4, 2009, Greencastle, Ind. — The sounds of percussion instruments from Africa, the Middle East, the Balkans, and Central and South America will be featured on campus from April 14 - 16, as the DePauw University School of Music welcomes guest artist B. Michael Williams. His residency will culminate in a "Global Rhythms" concert on Thursday, April 16, at 7:30 p.m. in Kresge Auditorium of the Green Center for the Performing Arts. The performance will be presented free of admission charge. (photo at left: Charlotte Observer)
Williams, professor of music and director of percussion studies at Winthrop University in South Carolina, is an active performer and clinician in both symphonic and world music, but specializes in the music and instruments of Africa, Cuba, and the Middle East. His three-day residency will focus on frame drums of north Africa and
the Middle East, and on traditional Shona-Zimbabwe music for djembe, marimba, and mbira.
The April 16 concert will include Brazilian samba batucada, Guatemalan marimba music and Balkan dance music, as well as solo playing on the mbira and frame drums by Williams and djembe, marimba, and frame drum ensemble playing by Williams and DePauw percussion students.
"In the percussion area, it is so important today to be proficient in playing many kinds of world music, not just Western classical music," comments Amy Lynn Barber, professor of percussion in the DePauw School of Music. "We hear these instruments and styles in all kinds of music today -- films, television, advertising, pop music, and jazz, as well as in contemporary classical music. Every country has its own unique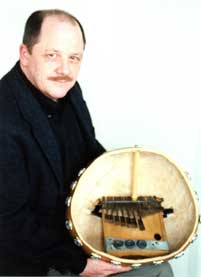 percussion tradition, and Michael Williams' visit will give us a wonderful opportunity to study a few of them."
B. Michael Williams holds degrees from Furman University, Northwestern University, and Michigan State University. He has performed with the Charlotte (N.C.) Symphony, Lansing (Michigan) Symphony, Brevard Music Center Festival Orchestra, and the Civic Orchestra of Chicago, and has appeared at several Percussive Arts Society international conventions. He has published articles and made scholarly presentations on the music of John Cage and on African music. In 2004, Dr. Williams received the Winthrop University Distinguished Professor Award, the highest honor given to a Winthrop faculty member.
For more information about events, visit the DePauw School of Music online.
Back