Former Administrator Offers 'College Aid Advice' in Indianapolis Star
April 10, 2009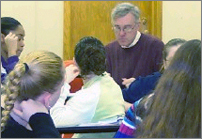 April 10, 2009, Greencastle, Ind. — An Indianapolis Star column offering "College aid advice for tough economic times" offers suggestions from Dave Murray, described as "a longtime administrator at DePauw University who now advises students and parents on college financing strategies." Murray tells the newspaper, "For those parents who have just lost a job during this economic downturn, the irony is that financial eligibility (for college financial aid) just went up for most of those families. The money is out there if you know how to find your way to it."
Murray is president of Murray & Associates and the National Center for College Costs and previously served as DePauw's dean of admission and associate provost.
"The tragedy is in Indiana too many students and families miss opportunities for financial aid and lose out on grant money," Murray declares. "And yet, the biggest reason students drop out of college is unmet financial need."

Read more at IndyStar.com.
Visit DePauw's admission office online by clicking here.
Back