Indianapolis Star: "High-Toned" DePauw Welcomes Todd Rundgren Tonight
April 8, 2009

[Download Audio: "Sample of Hello It's Me" - 963kb]
April 8, 2009, Greencastle, Ind. — "Todd Rundgren is widely considered a cerebral rocker, but tonight he takes it a step further: He lectures at DePauw University, the high-toned private school in Greencastle," reports the Indianapolis Star today. The newspaper notes that Rundgren's appearance as part of the Timothy and Sharon Ubben Lecture Series is presented free of charge and is open to all. The presentation on "Music, Technology and Risk-Taking" begins at 7:30 in the Judson and Joyce Green Center for the Performing Arts.
"Though known chiefly for his mellow 1970s radio hit 'Hello, It's Me' and his playful 'Bang the Drum All Day,' Rundgren has been a multi-faceted innovator as both a musician and producer during a career that has spanned 40 years. In recent years Rundgren and his band have played Indianapolis once a year. Tonight's lecture follows Monday's headbanging, guitar-wall-of-sound concert at the Vogue."
The item -- "Rocker Rundgren to speak at DePauw" --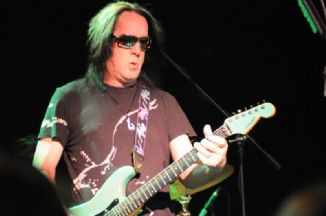 can be found at IndyStar.com.
As noted in this morning's Banner-Graphic, doors for the event will open at 6:30 p.m.
While at DePauw, Rundgren will make an appearance on student radio station WGRE at approximately 5 p.m. The station broadcasts at 91.5 FM and can also be heard online.
Learn much more about tonight's Ubben Lecture in this previous story.
Source: Indianapolis Star
Back