Media Cover Ubben Lecture by Todd Rundgren
April 9, 2009
Also: Rock Legend Todd Rundgren Delivers Ubben Lecture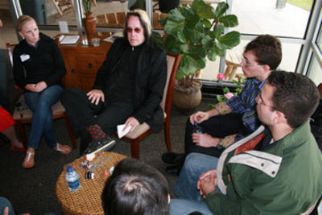 April 9, 2009, Greencastle, Ind. — "He's a renowned singer, songwriter, instrumentalist, record producer, video director and recording engineer," begins a story in today's Banner-Graphic of Greencastle. "In addition to having a successful career as a solo artist, he has worked with such acts as Meat Loaf, Hall & Oates, The Tubes, New York Dolls, Cheap Trick and Grand Funk Railroad. But on Tuesday, Todd Rundgren seemed to relish the opportunity to just be a musician kibbitzing with students about the ins and outs of the business when he visited DePauw University." (photo, showing Rundgren with students at the DePauw Nature Park, courtesy Banner-Graphic)
Jamie Barrand writes, "Rundgren did an interview with DePauw radio station WGRE. He then went to the DePauw Nature Park and enjoyed a catered dinner and conversation with students before speaking on Music, Technology and Risk-Taking' as part of DePauw's Ubben Lecture Series ... At the dinner before he presented his lecture,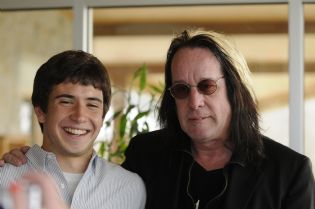 Rundgren sat down to talk with a small group of DePauw students, most of whom were music majors. 'Music was never a commodity, it was always a service,' he said. 'Record companies want guaranteed income. The problem is, there are no Michael Jacksons anymore.' Rundgren said he considered services like iTunes 'an impediment to people finding new artists. Who wants to pay to listen to something they might not like?' he said. Something that will never change, Rundgren said, is that bands and solo artists alike must keep performing live.
Rundgren's wife, Michele -- a former dancer for the Tubes who has also worked as a stand-up comedienne -- offered a rosy assessment of DePauw and Greencastle. "This campus is just beautiful," she tells the newspaper. "As we were coming into town, it was like, 'Oh my God, we're in the middle of nowhere.' Then we got into Greencastle and it was just so quaint."
Access the article at the Banner-Graphic's Web site.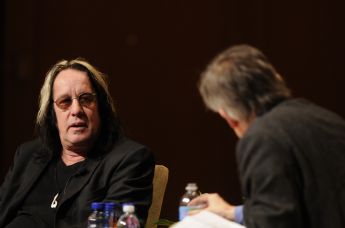 Cathy Kightlinger's column in the Indianapolis Star today notes that Rundgren and his band "were in Indianapolis on Monday for a show at the Vogue and then at DePauw University on Wednesday, so Todd could lecture to students. Todd went to DePauw at the request of Ken Owen, the university's media relations executive director. Owen, a former TV news reporter and anchor, is a longtime Rundgren fan." (at left: Rundgren and Owen, a 1982 DePauw graduate, at last night's Ubben Lecture)
Read the item at IndyStar.com.
You'll find a summary of Todd Rundgren's Ubben Lecture at DePauw last night by clicking here.
Back